Poet Laureate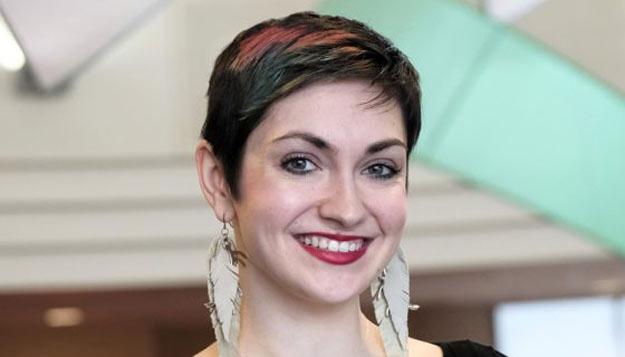 Maybe you have heard the term, but what does a "poet laureate" do? The new poet laureate at UMSL has a wide range of duties including public relations and teaching. The university's sixth poet laureate, Bridget McDonald, is pursuing a master's degree in creative writing. One of her favorite parts of the job is reading poetry to public audiences.
"I've gotten more comfortable with performing over the years, and I've started to really enjoy being in front of people. Teaching has definitely helped with that," said McDonald, who taught freshman composition at UMSL as a graduate assistant.
One of her inspirations is a book that many kids have read – Shel Silverstein's "Where the Sidewalk Ends."
"I was just completely enamored with the book," said McDonald. "As a little kid I think it was the rhyming and the musicality of poetry that charmed me. On a gut level that was really instinctively lovely to me – the discovery that language can be so appealing."
UMSL's newest poet laureate will be sharing poetry at university events and is looking for more ways to share her love of poetry with the community. Learn more here.
Share This
About this Story
Campus: UMSL
Key words:
County: St._louis_city