Taking Innovations from the University to the Marketplace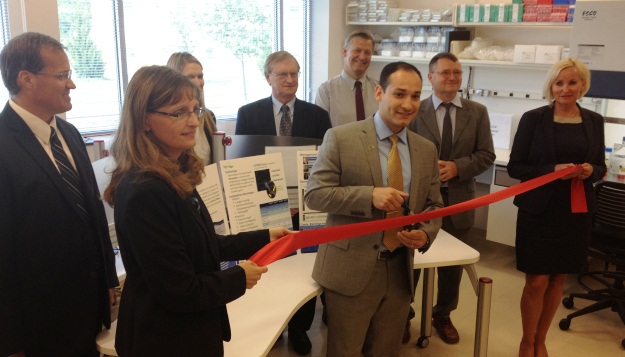 EternoGen President and CEO Luis Jimenez cuts the ribbon to lab space at the MU Life Science Business Incubator at Monsanto Place.
EternoGen, LLC. raises over $1 million since initial UM System investment, opens new offices in St. Louis and Stockholm.
COLUMBIA, Mo.— Just 18 months ago, University of Missouri System President Tim Wolfe announced the university's decision to fund a new medical device company and University of Missouri startup, EternoGen, LLC., up to $200,000 through its Enterprise Investment Program. Since that initial funding, EternoGen has successfully attracted an additional $1.485 million and today announced its plans to enter the commercialization phase.
"The ability to leverage funds from external sources is what validates the importance of initiatives like EIP at the university," Wolfe said. "EternoGen's success is a strong example of the investments we should be making to grow our research and spur economic growth in the state."
In its second round of funding, EternoGen obtained $1.065 million. These contributions include $375,000 from the Missouri Technology Corporation, a $350,000 co-investment from EIP and the MU College of Agriculture, Food and Natural Resources, $218,000 from Centennial Investors, $72,000 from company managers and founders, and most recently $50,000 from Arch Grants.
"CAFNR is pleased to support this unique, entrepreneurial faculty, staff and student startup company, and to have the contributed, discretionary funding to make the investment possible," CAFNR Dean Tom Payne said. "We appreciate the support both of MU and the UM System in this CAFNR venture."
Share This
About this Story
Campus: System
Key words: Competitiveness, Health, Innovation, MU Campus, President, Science, Technology, UM System,
County: Boone