UM System announces second cohort of Entrepreneurial Scholars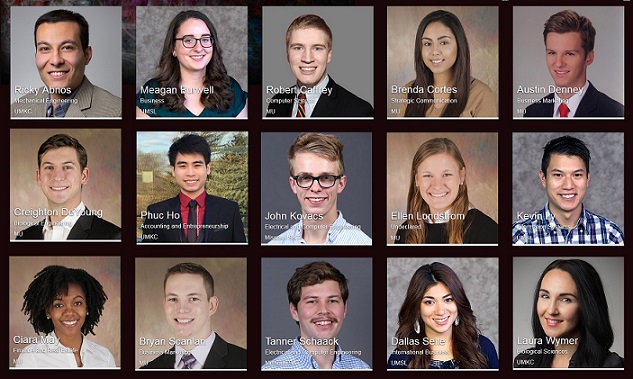 The competitive application process was open to all undergraduate students on all four campuses. The following students were named among the ESIP's second cohort:
Ricky Abnos of Kansas City, Mo., Mechanical Engineering, UMKC
Meagan Burwell of Florissant, Mo., Business - Undeclared, UMSL
Robert Caffrey of Kansas City, Mo., Computer Science, MU
Brenda Cortes of Marshall, Mo., Strategic Communication, MU
Austin Denney of Parkville, Mo., Business Marketing, MU
Creighton DeYoung of St. Louis, Mo., Biological Engineering, MU
Phuc Ho of Ho Chi Minh, Vietnam, Accounting and Entrepreneurship, UMKC
Nicholas Jones-Fielder of Kirkwood, Mo., Finance and Banking, MU
John Kovacs of St. Louis. Mo., Electrical and Computer Engineering, Missouri S&T
Ellen Lundstrom of St. Louis, Mo., Undeclared, MU
Kevin Ly of St. Louis, Mo., Information Systems, UMSL
Ciara May of Kansas City, Mo., Finance and Real Estate, MU
Vivion Nguyen of Kansas City, Mo., Entrepreneurship, UMKC
Bryan Scanlan of Libertyville, Ill., Business Marketing, MU
Tanner Schaack of Neosho, Mo., Electrical and Computer Engineering, Missouri S&T
Dallas Selle of Lake Saint Louis, Mo., International Business, UMSL
Connor Wolk of Chesterfield, Mo., Engineering Management, Missouri S&T
Laura Wymer of Kansas City, Mo., Biological Sciences, UMKC
The University of Missouri System has selected 18 students from across the university's four campuses to participate in the UM System Entrepreneurial Scholars and Interns Program (ESIP). In its second year, the program provides students with an academic foundation in entrepreneurial principles and practices as well as the opportunity to learn from a mentor or work within a startup company. The 2016 cohort will begin taking approved entrepreneurial-related courses during the spring semester followed by a 10-week, paid summer internship.
"The goal of the program is to create a steady stream of entrepreneurs around the state capable of taking their cutting-edge ideas to the market as new business ventures," UM System Interim Vice President for Academic Affairs, Research and Economic Development Bob Schwartz said. "Creating this new wave of well-educated entrepreneurs in Missouri benefits the local, regional and national economies."
Due to the program's initial success, the UM System was awarded $145,000 from the Missouri Technology Corporation to expand the ESIP from its initial cohort of 14 students to 18 students this academic year. Of the students in the first cohort, seven have launched startups, five are learning more about corporate innovation in Missouri companies, and two are still exploring entrepreneurial options.
"Our mission statement includes fostering innovation to support economic development," Schwartz said. "The Entrepreneurial Scholars and Interns Program supports our university's mission by equipping the next generation of entrepreneurs with the skills they need to be successful."
Share This
About this Story