40 Years of Making a Difference at UMSL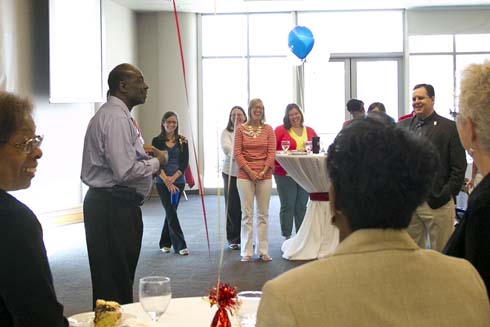 Benard Diggs, director of the Millennium Student Center operations at UMSL, tells a story from his early days 40 years ago at the university. An anniversary party was held June 24 to honor Diggs who started working at UMSL as a custodian and is now working on his doctorate in education leadership. (Photo by August Jennewein)
Benard Diggs learned about the University of Missouri–St. Louis from the ground up.
"In 1973 I reported to the basement of the old administration building to work nights as a custodian," Diggs said. "I was 22, tall and skinny with a huge Afro. I was going to college in Illinois and needed the money. A friend's father got me the job working on the floor crew. There were 21 of us in those days."
At the time, Diggs was a pre-med student at Southern Illinois University Edwardsville. Today, he directs the 165,000-square-foot Millennium Student Center from top to bottom. And he's working on his PhD in higher education leadership.
Colleagues, friends and family gathered June 24 to celebrate Diggs' 40-year run at UMSL and to wish him well in the future.
"He's so calm and soft spoken. I've never seen him get angry," said Nyonia Frye, a Human Resources assistant since 1977 and a friend of Diggs almost as long.
Most of the nearly 100 people who attended the event had the same descriptions.
"He's a very caring man," said Joann Westbrook, Human Resources manager. "He's always checking on other people. He'll call and ask how are you doing."
Share This
About this Story
Campus: UMSL
Key words: Employee Information, St. Louis Campus, UM System,
County: St._louis