The Adventures of Mark Twain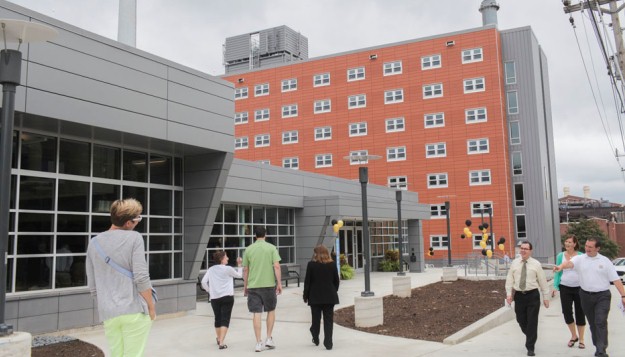 Recycled terra-cotta material gives a Red Campus feel to the façade.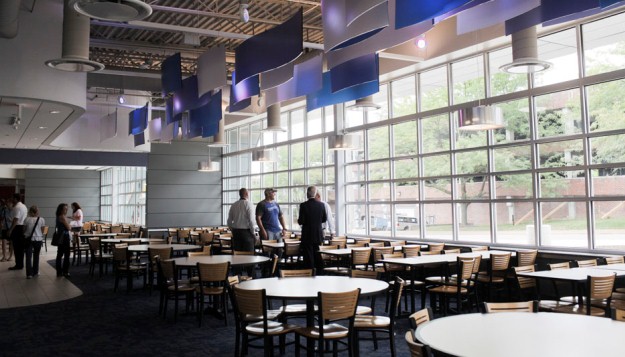 The MARK on 5th Street, a dining hall inside of Mark Twain Residence Hall, can accommodate 250 students.
Story by Kelsey Allen
Photos by Nicholas Benner
After undergoing $21.7 million in renovations, Mark Twain residence hall held its grand opening Aug. 7 just in time for the fall 2013 semester.
Mark Twain was built in 1963 by the private Chicago-based University Dormitory Development Inc. and opened in 1964 to 408 students. Bought by Mizzou in 1986 for $2.7 million, Mark Twain housed 395 students until it closed for renovations in 2011.
When the residence hall opens for students on Aug. 11, it will be home to about 380 residents. The decrease in the number of residents allowed for an increase in the community space available, including two study rooms and a lounge on each of the seven floors.
One of the biggest interior modifications included moving the sinks and medicine cabinets, which had been located in the student rooms, to a suite-style restroom space that includes a double-basined sink and enclosed shower and toilet space.
Perhaps the most noticeable change, however, is the absence of Mark Twain's outdoor pool, which was demolished to make room for more seating for The MARK on 5th Street dining facility. Before renovations, the former Mark Twain Market had a capacity of 200 diners. The rebranded The MARK on 5th Street can accommodate 250 students. As before, the dining hall will offer a variety of options, including an expanded deli with freshly baked bread and made-to-order sandwiches.
In keeping with Mizzou's commitment to sustainability, finish materials and furnishing containing recycled content were used wherever possible, building materials were purchased within a 500-mile radius if possible, and there are recycling receptacles on each floor.
Share This
About this Story
Campus: UMC
Key words: Innovation, MU Campus, UM System,
County: Boone