Artist in the Community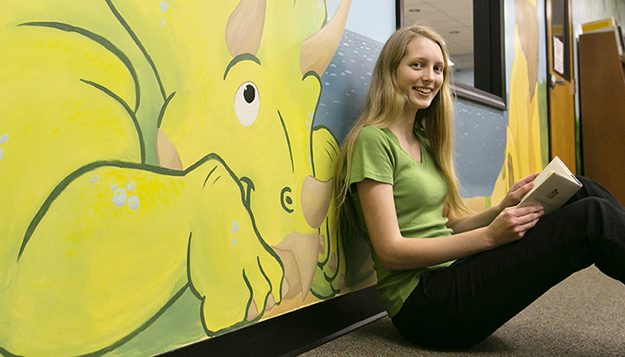 Lara Edwards spent more than 100 hours working on a mural for the children's library in Rolla. Photo by Sam O'Keefe.
Every time Lara Edwards, a senior in biological sciences, takes on a new art project, she makes sure to include an element that she has never tried before. So, when she agreed to paint a mural in the Leola Millar Children's Library in the Rolla Public Library as part of her Art in the Community class last summer, Edwards fulfilled that requirement. It was the largest project she had ever taken on and the only mural that earned her college credit.
Dick Miller, former chair of arts, languages and philosophy at Missouri S&T, suggested the location for the mural. Last summer, the library approved plans for the mural and Luce Myers, lecturer in arts, languages and philosophy, offered her first Art in the Community class. Edwards signed up for the class and worked on the mural with another student, Michael Crabtree.
Edwards and Crabtree wasted no time getting started. On their very first trip to the library, Crabtree began measuring the walls, doors and windows to convert the space into a grid. The measurements were used to make a scale drawing of the space on paper with one square equaling a certain number of inches on the wall. While Crabtree worked on the grid, Edwards designed characters and planned the color scheme.
Crabtree drew a landscape he wanted to include in the mural on a non-exact diagram of the walls. "I positioned my characters within and in front of this landscape and added details to Michael's sketch until this became the final mural design," Edwards says.
Share This
About this Story
Campus: Missouri S&T
Key words: Rolla Campus, UM System,
County: Phelps