Camp Starfish serves Belizean children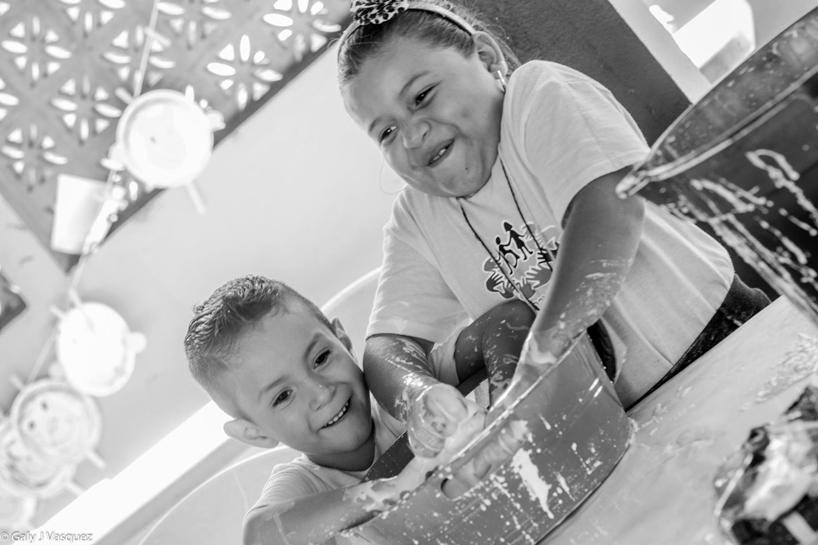 Camp Starfish participants experiment with handfuls of Oobleck. Photos courtesy of Lynn Navin, UMSL Daily.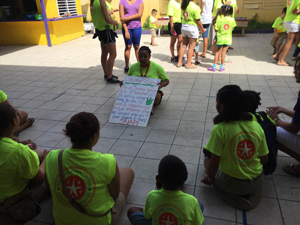 UMSL education major Miranda Linstruth teaches Camp Starfish participants an original "lobster" song.
Over a span of two weeks during the summer, University of Missouri–St. Louis education faculty and undergraduates coordinated Camp Starfish, a program that offered coconut bowling, oobleck, traditional garifuna dance, gak and yoga lessons to a group of 28 special needs students on the Belizean island of San Pedro.
According to Lynn Navin, director of the University Child Development Center at UMSL, Camp Starfish represents a positive and dynamic shift toward the education of special needs students in Belize.
"There isn't a national education system for children with special needs in Belize," she said, "so they usually don't go to school. Or if they do go to class, they sit at the back and don't receive instruction."
Besides working to understand complex cultural differences, Navin and the crew of education undergraduates used quick thinking and teamwork to meet challenges and provide Camp Starfish students with the best experience possible.
"Our special needs children had a wider age range and variety of challenges than expected," she said. "Some students were vision and hearing impaired. Many students had Down Syndrome, and there were four or five children who had severe behavioral problems or autism, so we had to improvise sensory activities to accommodate them and help sooth their anxiety. Our team filled buckets with sand from the beach and hid figurines for the children to find and combined cornstarch and water to make oobleck. The kids were fascinated and had a lot of fun."
Share This
About this Story
Campus: UMSL
Key words: Health, Science, St. Louis Campus, Teaching,
County: St._louis