Celebrating a Historic Partnership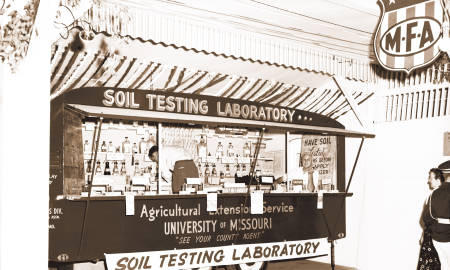 MFA and MU booths, State Fair, Sedalia, August 1949. Image courtesy MFA Incorporated and CAFNR News.
Call this gift a team effort. That's how MFA Incorporated, MFA Oil and the MFA Foundation refer to their newly established MFA Professorship in Agribusiness.
Company executives of MFA Incorporated and MFA Oil consider the gift a public demonstration of appreciation for CAFNR and a formal celebration of their historic relationship with the college through mutual missions – service to the farmers and citizens of rural Missouri.
The MFA entities have pledged $750,000 over four years to establish an endowed professorship that supports education and research. When additional gifts to the fund reach $1.1 million, the professorship will be converted to a chair.
"We're proud of our company. We're proud of the university, the college of agriculture and our partnership. Some area of this company has contact with the university at least every week. It's continuous. We look forward to a long relationship," says Ernie Verslues, president and CEO of MFA Incorporated.
CAFNR is the logical recipient of this gift because of its national reputation as a leader in agribusiness, according to Mark Fenner, president and CEO of MFA Oil and president of the MFA Foundation.
"The university is better from an ag perspective than anything close and is committed to it. A lot of schools have some ag classes, but they're not nearly as comprehensive as what you find at Mizzou," he says.
Two of the most successful cooperatives in the nation, MFA Incorporated and MFA Oil, enjoy a 100-year relationship with Mizzou that has helped each institution prosper.
Established in 1914, MFA Incorporated is the nation's oldest and one of the largest farm-supply cooperatives, serving more than 45,000 farmers and ranchers. MFA Oil, established 85 years ago, offers bulk delivery of fuel, lubricants and propane to more than 40,000 farmer owners.
Share This
About this Story
Campus: UMC
Key words: Agriculture, MU Campus, Science,
County: Boone