Discovery Channel Features UMSL Geologist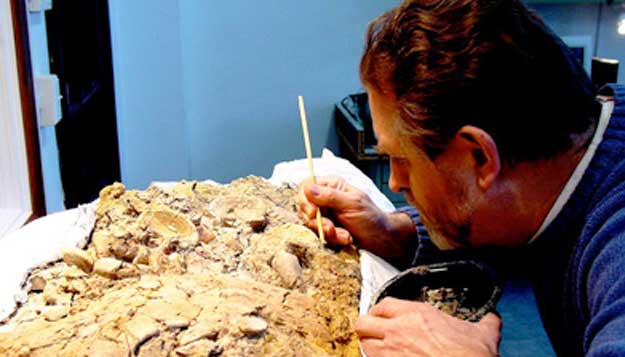 Producers visited a digging site in Bollinger County for a piece about Midwestern dinosaurs.
Michael Fix has been digging up dinosaur bones in Missouri since the 1980s. The massive prehistoric creatures made their home in the Show-Me State from about 144 million to 65 million years ago. The Discovery Channel recently featured the University of Missouri-St. Louis geologist for a piece about Midwestern dinosaurs.
"It was a treat for us to have them come to our site," said Fix, referring to the 36 x 20 dig site in Bollinger County near Cape Girardeau, Mo., that he and fellow enthusiast Guy Darrough have cultivated for 30 years. "It was kind of a happy accident because we didn't seek them out."
Back in 2008, producers initially contacted a dinosaur expert in Illinois who referred them to Fix and Darrough, who incidentally makes his living creating full size reproductions of the fantastic creatures. Missouri offers up solid proof of the Hypsibema Missourise dinosaur or the hadrosaur, a duck-billed dinosaur.
"We were very pleased how it turned out," said Fix, who has taught at UMSL since 1976 and is the resident geologist and paleontologist. "It was great exposure for not only what Missouri has to offer in terms of dinosaurs but also for UMSL."
Share This
About this Story
Campus: UMSL
Key words: Science, St. Louis Campus, Technology, UM System,
County: Bollinger