UM System saves $80 million through efficiencies, increased effectiveness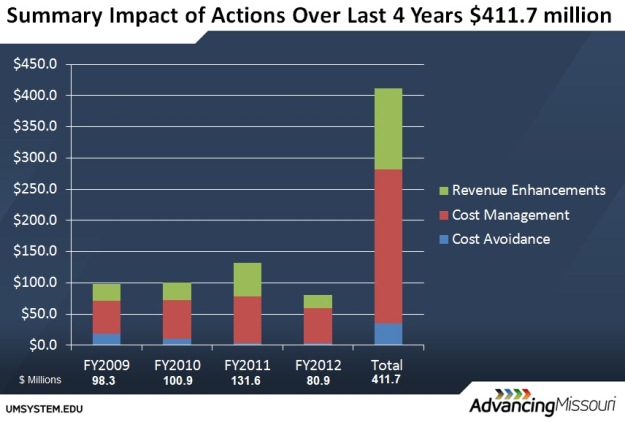 Since 1998, the UM System has collected and reported on initiatives that result in increased efficiencies and effectiveness of university operations that demonstrate commitment to responsible stewardship of university assets and resources. Since 2009, the university's cumulative savings and revenue enhancements have totaled $411.7 million.
The University of Missouri System announced Dec. 6 that the four-campus system has generated over $80 million in efficiencies and increased effectiveness in Fiscal Year 2012.
President Tim Wolfe said the savings are part of the university's continued commitment to identifying cost savings and revenue enhancements that allow the university to invest in its core mission areas while helping to keep the cost of education affordable and a college degree attainable for Missourians.
"We have long considered ourselves good stewards of state resources, and our ability to identify continued cost savings and revenue enhancements year over year is something we are very proud of," said Wolfe. "Not only does it demonstrate our commitment to utilize well the resources that are invested in us, but it also shows our continued effort to rethink normal business processes, seek new revenue streams and continually think about how to deliver our mission in the most effective and efficient ways.
Click here to view the press release.
Share This
About this Story
Campus: System
Key words: Board of Curators, Competitiveness, KC Campus, MU Campus, Rolla Campus, St. Louis Campus, UM System,
County: Boone