Entrepreneurship Educator Award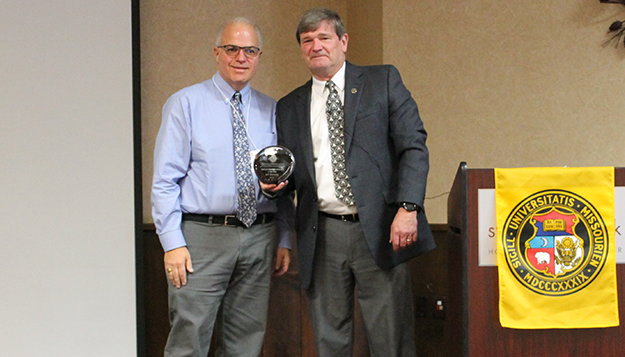 University of Missouri System Vice President for Research and Economic Development Dr. Mark McIntosh awarded the second annual UM System Entrepreneurship Educator of the Year Award on Friday. The award was presented to University of Missouri-Kansas City Henry W. Bloch/Missouri Endowed Chair Dr. Jeff Hornsby for his distinguished activity in developing and nurturing entrepreneurs.
"Cultivating entrepreneurs who contribute to the economic vitality of the state is part of our critical mission as a public research university. We are thrilled to have educators like Dr. Hornsby leading these initiatives," McIntosh said. "Jeff represents everything an entrepreneurship educator should be and his many contributions are greatly appreciated."
Hornsby joined the UMKC Bloch School of Management in 2013 where he also serves as the Director of the Regnier Institute for Entrepreneurship and Innovation and Chair of the Department of Global Entrepreneurship and Innovation. Prior to UMKC, Hornsby spent more than 20 years as an entrepreneurship educator at both Kansas State University and Ball State University. In his short five years at UMKC, he has had many accomplishments including fundraising over $1.5 million in grants and other funding, facilitating the mapping and redesign of entrepreneurship curriculum, developing the Kangaroo Idea Jump Competition and Entrepreneurship Ambassadors Program and continuing to grow the existing programs including the E-Scholars program. As a scholar of entrepreneurship, Hornsby has published more than 160 articles, six books and been cited over 8,000 times.
Judges for the award, Dr. Nathalie Duval-Couetli of Purdue University and Mr. Kevin McCurren of Michigan State University, noted that Hornsby is a well-rounded educator with contributions to the scholarly discipline as well as student learning. They appreciated not only his scholarly contributions, but his efforts in cultivating many student entrepreneurs, as well as his national service to the profession.
The award presentation took place during the second annual UM System Entrepreneurial Educator Summit. More than 80 educators from all four UM System campuses gathered for two days in Columbia to focus on entrepreneurial education. The conference provided a collaborative environment for the attendees to share best practices, brainstorm new approaches, and better understand the resources available to them as part of the UM System.
Share This
About this Story