Express Scripts commits $2.5 million to UMSL precollegiate program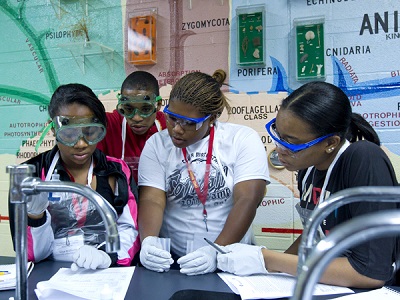 The UMSL Bridge Program serves more than 4,000 people, including area students and their families, each year. Photos by August Jennewein, courtesy of UMSL Daily.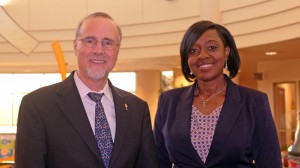 Assistant Dean of Students Natissia Small, pictured here with UMSL Chancellor Tom George, oversees the precollegiate UMSL Bridge Program that is expanding with support from Express Scripts.
A new partnership with Express Scripts will allow the University of Missouri–St. Louis to expand its efforts to help local young people thrive.
Focused particularly on north St. Louis County high school students, the $2.5 million investment by Express Scripts promises to bolster UMSL's Bridge Program, which annually equips hundreds of area youth for college and career success. In addition, the gift will fund up to 20 active UMSL scholarships with preference given to Bridge participants from public high schools in north county.
"The need for strong, sustainable pathways to education and employment for young people in our community is urgent," said UMSL Chancellor Tom George. "With this generous commitment, Express Scripts helps us reach significantly more students in our region and prepare them for leadership and service throughout their lives."
The gift is one of three recent corporate partnerships aimed at fostering opportunity in the north-county area in collaboration with UMSL. The Emerson Community Scholarship Program was established last fall, and two months ago Ameren announced a similar initiative to boost access to higher education and professional development opportunities in the region.
"Investing in education is one of the most valuable investments we can make," said Express Scripts Chairman and CEO George Paz. "We are proud to partner with UMSL to create more educational opportunities for deserving students in north county. Together, we will help change the trajectory of an entire region through greater access to higher education."
Share This
About this Story
Campus: UMSL
Key words: St. Louis Campus, Teaching,
County: St._louis