Governor announces boost to need-based scholarships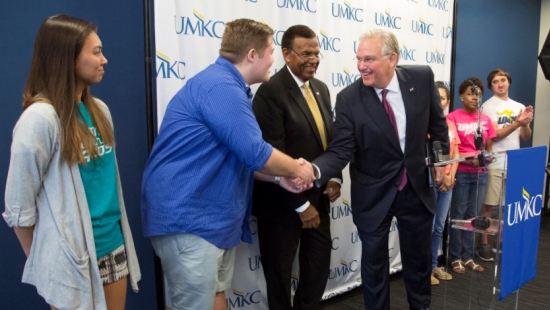 Photo by Janet Rogers, UMKC Division of Strategic Marketing and Communications; courtesy of UMKC Daily.
Gov. Jay Nixon came to the University of Missouri-Kansas City to announce a substantial boost in need-based scholarships for college students across Missouri.
At the July 15 press conference at the Atterbury Student Success Center, Nixon said the maximum award amount for Access Missouri scholarships will increase by more than 23 percent – to $1,850 from $1,500 – for students attending participating four-year institutions including UMKC, and by nearly 30 percent – to $850 from $660 – for students attending participating two-year institutions in the current fiscal year, FY2016.
"College affordability has been a top priority of my administration, and over the past six years Missouri has led the nation in holding down tuition increases at public universities," Nixon said. "This substantial increase in Access Missouri scholarship amounts will make college more affordable for thousands of students across the state. As many other states struggle with deficits and gridlock, here in Missouri our commitment to our students and our higher education institutions continues to move our economy forward."
Nixon stressed the importance of the investment to the state's overall economy, as well as to individual students and their families.
"Institutions like UMKC are essential to Missouri's ability to compete and win in today's high tech economy," the governor said. "Education is the best economic development tool we have.
"The less students spend on tuition, the more they can spend on a down payment on a house or starting their own business, generating economic activity that will yield big returns for our communities now and for years to come," Nixon added.
Share This
About this Story
Campus: UMKC
Key words: KC Campus, Teaching,
County: Jackson