MU, Nixon announce $4.2 million grant for crop research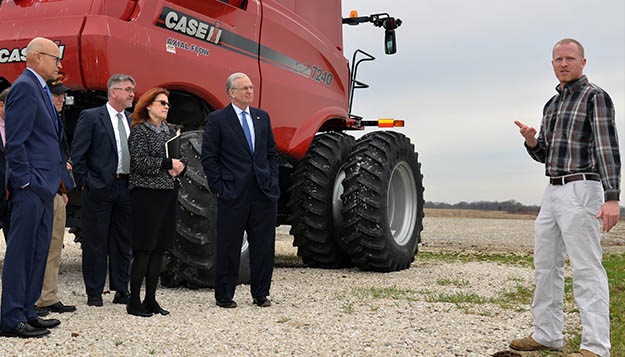 Andrew Biggs, interim superintendent of Bradford Research Center gives a tour of the grounds as, from left to right, Interim UM System President Mike Middleton, CAFNR Dean Tom Payne, Missouri Department of Agriculture Director Richard Fordyce, MU Provost Garnett Stokes and Missouri Governor Jay Nixon look on. Photo by Stephen Schmidt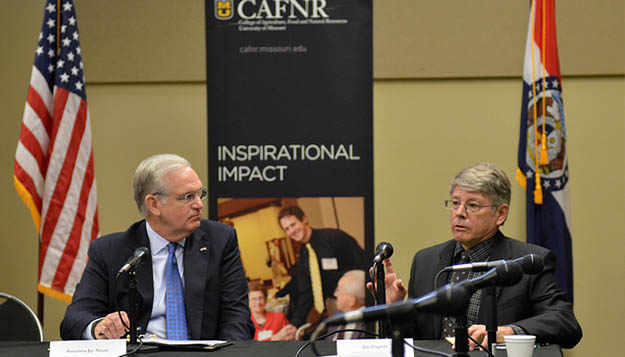 Jim English, director of the Division of Plant Sciences at MU, addresses a panel of speakers at the Bradford Research Center as Missouri Governor Jay Nixon listens. Photo by Stephen Schmidt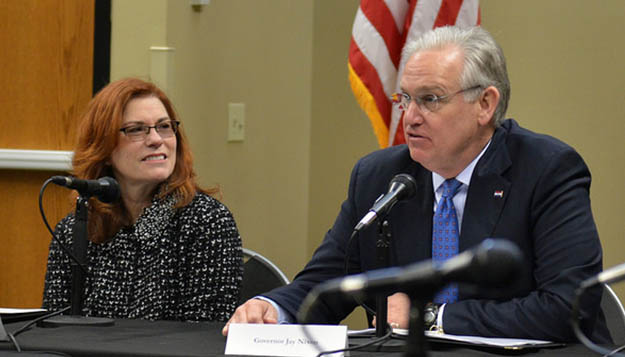 MU Provost Garnett Stokes (left) listens to Missouri Governor Jay Nixon during the announcement. Photo by Stephen Schmidt
Missouri Governor Jay Nixon visited the Bradford Research Center on March 10, as officials announced a $4.2 million grant awarded to the MU Interdisciplinary Plant Group. The National Science Foundation awarded the grant to fund a four-year, comprehensive study to determine how crops such as corn, wheat and sorghum maintain and adapt root growth during drought conditions.
Nixon joined Interim UM System President Michael Middleton on a tour of the Bradford Research Center and engaged in a roundtable discussion with students and leaders of the project. Both Nixon and Middleton applauded the interdisciplinary efforts that brings together students and faculty who specialize in plant sciences, biochemistry, computer science, biological sciences and journalism.
The Bradford Research Center, located in Columbia, Missouri, is one of several agricultural research centers located across Missouri and maintained by the MU College of Agriculture, Food and Natural Resources. As a research laboratory and outdoor classroom, Bradford's faculty and students investigate wastewater management, entomology, pest and weed control, alternative crops, organic transition techniques and engage the community through workshops, field days, and partners with university organizations to improve MU's sustainability.
The MU Interdisciplinary Plant Group (IPG) is recognized as one of the top plant research and training programs in the nation. Established in 1981, the IPG is a community of MU faculty, students, postdoctoral fellows and professionals who are pursuing novel, creative and transformative ideas in the field of plant biology. The overarching theme of the IPG's research focuses on understanding how plants respond to changing environments. Within this theme, research projects can be grouped by studies that focus on genetic diversity, on developmental mechanisms, and on biotic and abiotic interactions.
Share This
About this Story
Campus: UMC
Key words: Agriculture, Competitiveness, Innovation, MU Campus, President, Science, UM System,
County: Boone