Grant will help UMKC Develop Students into Future Leaders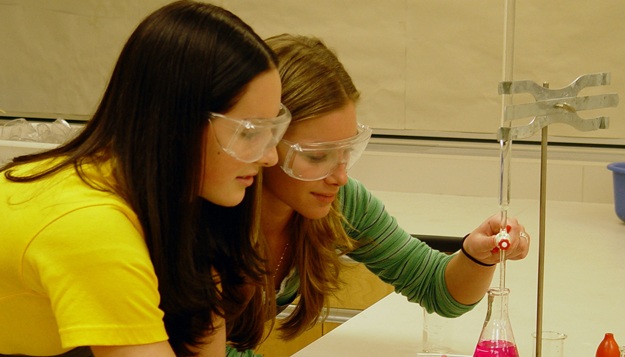 The Ewing Marion Kauffman Foundation today announced a $3.2 million grant over five years to create the KC STEM Alliance - a new organization that will grow and strengthen science, technology, engineering and math (STEM) programs to build a stronger pipeline of students prepared for 21st century careers. The KC STEM Alliance is housed at the University of Missouri-Kansas City (UMKC) School of Computing and Engineering.
The KC STEM Alliance, a one-of-a-kind model, will consolidate the program management for two organizations in the Kansas City region: Project Lead The Way (PLTW) and FIRST (FIRST Robotics, FIRST Tech Challenge and FIRST Lego League). The KC STEM Alliance is designed as an over-arching entity that will leverage the strengths of these two and other STEM programs, in partnership with regional STEM industries. Through this consolidation, the Alliance will take advantage of the complementary nature of the PLTW and FIRST organizations to advance three goals: 1) streamline program management and marketing; 2) to develop a universal evaluation strategy; and 3) to create a plan for lasting impact and future sustainability for both programs.
"With a vision to increase students' interest in science, technology, engineering and mathematics, the KC STEM Alliance will encourage students to pursue careers in scientific and technical fields, which will lead to building a long-term, highly skilled workforce for the Kansas City community," said Carl Schramm, Kauffman Foundation president and CEO.
Share This
About this Story
Campus: UMKC
Key words: Competitiveness, KC Campus, Math, Science, Teaching,
County: Jackson