MU-developed Dental Composite Receives FDA Clearance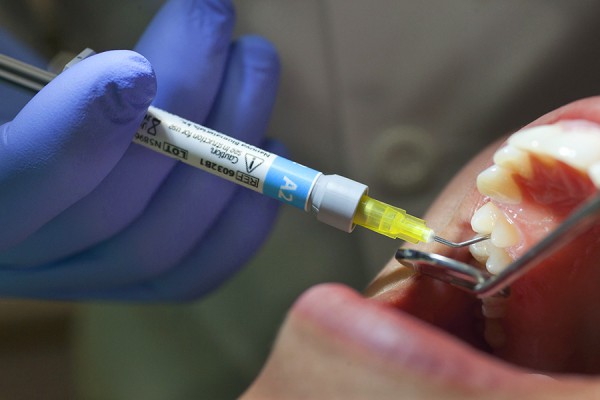 Hao Li and his company, Nanova Biomaterials, Inc., recently received approval from the Food & Drug Administration to market and sell their nanofiber-reinforced flowable composite, NovaPro Flow, which will be used for dental repairs, namely restoration fillings. Photo courtesy of Nanova Biomaterials, Inc.
Dental composites are the synthetic resins or mixtures dentists use to restore teeth to their original hardness and rigidity. Made of amalgams—mixtures of mercury, silver or tin, or composites such as silica, ceramic or plastic compounds—longevity and performance often vary, and the composites are prone to breakages. Now, a University of Missouri engineer who has developed a "flowable" composite that can be injected in a cavity and hardened through a high-intensity light, recently received clearance from the Food and Drug Administration to produce this product on a commercial scale.
Because of the short life span of normal composites, it is estimated that replacement fillings comprise 75 percent of a dentist's work. Additionally, the short life span of everyday composites is one of the most critical challenges for restorative dentistry, according to the National Institutes of Health (NIH). Hao Li, a professor of mechanical and aerospace engineering in the MU College of Engineering, and president of Nanova Biomaterials Inc., created a composite using calcium phosphate nanofibers that significantly improves the strength of the tooth while retaining the shine.
"Calcium phosphate fibers are microscopic nanofibers that have their strength in inverse proportion to their diameter," Li said. "This means if the diameter of the nanostructure shrinks 100 times, the strength may increase 10 times—basically, as the fibers get thinner, they become stronger."
Share This
About this Story
Campus: UMC
Key words: Engineering, Health, Innovation, MU Campus, Science, Technology,
County: Boone