Johnson County Business Success Story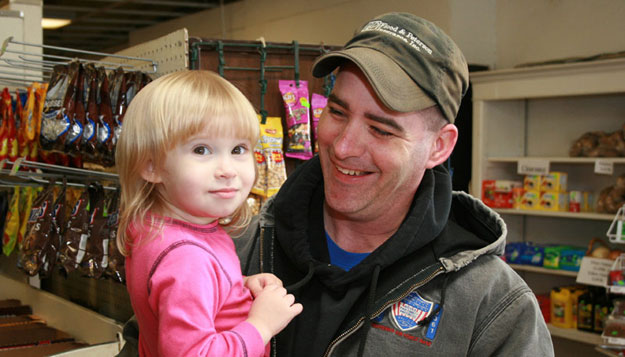 The Kerksieck family of Chilhowee was able to buy a local grocery store with help from a a business counseling team at the University of Missouri Extension's Small Business & Technology Development Centers. At right, owner Brandon Kerksieck is pictured at the store with his daughter, Riona.

Brandon and Chris Kerksieck first saw the "For Sale" sign as they were going to church one Sunday morning. Chilhowee's only grocery store was on the market.
Chilhowee is a small town in west central Missouri. Its population stretches to little more than 300, within the city limits. The next closest grocery lies more than 15 miles away in Holden. If Chilhowee's grocery store shut down the Kerksiecks feared their town would lose a vital cog.
The Kerksiecks chose Chilhowee as their home because of its proximity to Brandon's work. He's an aircraft production controller at Whiteman Air Force Base, about 25 miles east of Chilhowee. They feel it's a great place to raise their kids. And the town also reminds Brandon of his childhood home in Barrytown, a rural burg of 200 in west central Alabama.
Darrell Brammer and his business counseling team at the SBTDC, added to the advice the Kerksiecks received. These business experts helped the Kerksiecks explore the financial factors to consider. They also assisted the couple in developing a business plan, which the Kerksiecks needed to apply for a loan.
Share This
About this Story
Campus: Extension
Key words: Health, Teaching, UM System,
County: Johnson