Latino-American Film Series to Open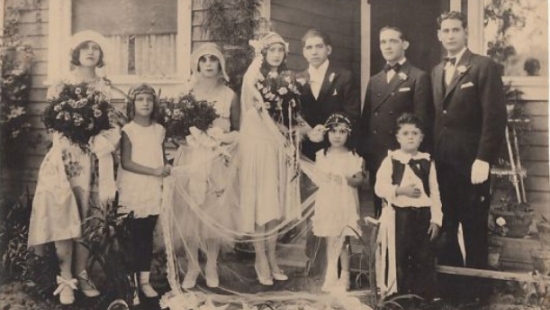 Salvador & Lupe Villaseñor's wedding party in Santa Ana in 1929 is shown in "Latino Americans: Empire of Dreams." Photo courtesy of UMSL Daily.
The first in a series of events focused on Latino-American history, sponsored by the University of Missouri-Kansas City, will include a screening of the documentary film "Empire of Dreams."
The event is scheduled for 1:30 p.m. Saturday September 12 at Mattie Rhodes Art Gallery, 915 W. 17th St., Kansas City, Missouri. The discussion will be led by Miguel Carranza, Ph.D., director of Latina/Latino Studies at UMKC, with guest scholar Gene Chavez, Ph.D., an expert in the history of Latinos in Kansas City. The film and discussion are free and open to the public.
The event is the first of four film-and-discussion events to be hosted by University Libraries in collaboration with faculty in the UMKC Latina/Latino Studies program. It follows a similar format to an NEH-funded series on the Civil Rights era hosted by the library in 2014. The 2015-16 series, Latino Americans: 500 Years of History, produced by the National Endowment for the Humanities and the American Library Association (ALA), is part of an NEH initiative, The Common Good: Humanities in the Public Square.
Four discussion forums are scheduled for September 2015 through April 2016, with three of the sessions including a showing of a chapter from the six-part Latino Americans: 500 Years of History film series. The full series is available online at http://www.pbs.org/latino-americans/en/watch-videos/#2365075996.
Share This
About this Story
Campus: UMKC
Key words: KC Campus, Teaching,
County: Jackson