Students Conduct Malaria Research in Galapagos Islands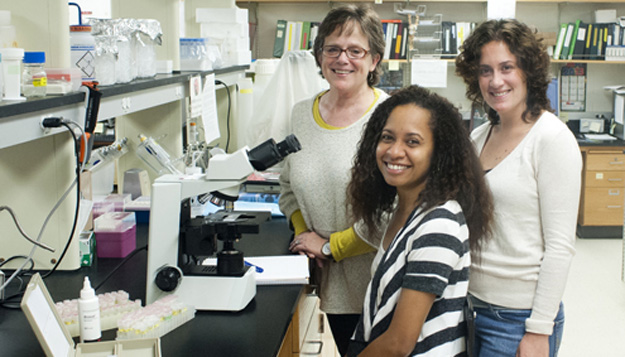 UMSL biologist Patricia Parker (left) poses by doctoral students Samoa Asigau (center) and Mari Cruz Jaramillo, who recently returned from the Galapagos Islands where they conducted malaria research.
"Do you know where her flies are?" Patricia Parker asks her lab assistant over the phone.
It might seem like an odd line of inquiry, but it's all in a day's work for Parker, the E. Desmond Lee Endowed Professor in Zoological Studies and chair of the Department of Biology at the University of Missouri–St. Louis. For the past decade she has been leading research in the Galapagos Islands on plasmodium, the parasite that causes malaria.
Hours before, Mari Cruz Jaramillo, a gradate student in biology at UMSL and a native of Ecuador, returned to St. Louis weighed down with bird blood and mosquito samples. She was part of a six-member, all-female team that spent two months conducting research in the Galapagos Islands. Four of the researchers are current UMSL students and one is an alumna who works at the Missouri Botanical Garden.
Share This
About this Story
Campus: UMSL
Key words: Health, Science, St. Louis Campus, UM System,
County: St._louis