Mars Rover Team Honors Alumnus-Astronaut Tom Akers
Missouri University of Science and Technology Mars Rover Design Team paid homage to Missouri S&T's first astronaut, Col. Tom Akers, Math'73, MS Math'75, by naming its rover Akers. The team took part in the Mars Society's University Rover Challenge, held May 29–June 1 in the desert outside Hanksville, Utah. Although Akers struggled over the terrain, team member Ian Lee, a junior in engineering management, says the group learned a lot from the experience and from other teams.
"We took the opportunity of the lulls in the competition to talk with other teams, see how they made their robots, and to identify many of the gaps in our knowledge so that we will be better prepared for next year's competition," Lee says. "The team is enthusiastically preparing to take next year's rover competition by storm."
Posted on Oct 31, 2013.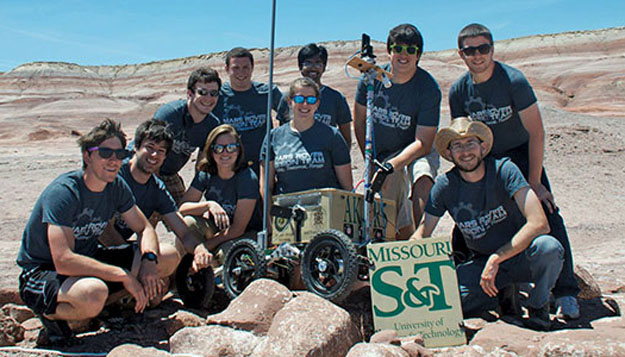 Members of the 2013 Mars Rover Design Team who were selected to travel to Utah for the competition are, from left: Jonathan Bopp, Joshua Jetter, Ian Lee, Catherine (Catie) Josten, Jacob Armenta, Hailey Tipton, Kumar Singampalle, Charles Gardner, Michael Bouchard andFrank Marshall.