Missouri S&T team connects the dots in power supply systems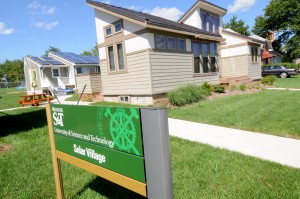 The Missouri S&T Solar Village is an example of a smart grid. Researchers are working on ways to keep such power systems safe, creating algorithms to protect cyber-physical systems. Images courtesy of Missouri S&T.
A Missouri University of Science and Technology researcher is working to produce algorithms for cyber-physical systems (CPS) to help bridge the gap between computational and physical systems in an increasingly interconnected world.
A CPS is a system of collaborating computers that control physical entities, such as power systems. The National Science Foundation awarded a team led by Dr. Jonathan Kimball, associate professor of electrical and computer engineering at Missouri S&T, $333,298 for the project. Also working on the project are Dr. Bruce McMillan, associate dean for research and outreach in the College of Engineering and Computing and a professor of computer science at Missouri S&T; and Dr. Mo-Yuen Chow, professor of electrical and computer engineering at North Carolina State University.
"The vision is to do for electrical power flow what the Internet has done for data," Kimball says. Unlike the Internet, which isn't dependent on any one server or system, the nation's power grid is interconnected, and a failure in one system can cascade down the line.
Share This
About this Story
Campus: Missouri S&T
Key words: Engineering, Innovation, Math, Rolla Campus, Science, Teaching, Technology,
County: Phelps