Missouri S&T to grow ceramic engineering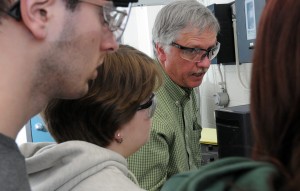 Professor Richard Brow, right, is helping Missouri S&T partner with industry to increase interest and participation in the field of ceramic engineering. Image courtesy of Missouri S&T News & Events.
Ceramic engineers help make everything from the casserole dish in the cupboard to artificial joints for hip replacement to coatings that protect jet engine blades — but there aren't enough ceramic engineers to meet industry needs, says a Missouri University of Science and Technology professor.
Missouri S&T is working to change that.
Missouri S&T is one of five colleges to take part in the Ceramic and Glass Industry Foundation's (CGIF) University-Industry Network. The CGIF is an outgrowth of the American Ceramic Society (ACS). Dr. Richard Brow, Curators' Professor of ceramic engineering at Missouri S&T, served as ACS's president in 2012-13.
The CGIF, Brow says, "is a recognition that ceramic engineering as a stand-alone educational discipline has shrunk over the last 30 years to where there's very few in the country."
Missouri S&T produces 25 to 30 ceramic engineers each year, Brow says — about half of what the country as a whole produces. And that's where the University-Industry Network comes in to encourage materials science and engineering programs around the country to teach key concepts in ceramics and glass science and steer students toward careers in ceramic materials.
Share This
About this Story
Campus: Missouri S&T
Key words: Innovation, Rolla Campus, Teaching,
County: Phelps