Missouri S&T to stage play about sexual assault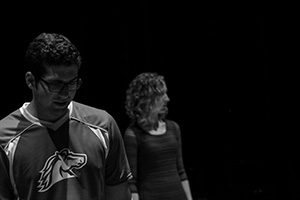 Missouri S&T students rehearse 'Good Kids,' a play about sexual assault that will run Oct. 29-Nov. 1, 2015. Image courtesy of Missouri S&T News & Events.
The Miner League Theatre Players at Missouri University of Science and Technology will examine attitudes and misconceptions about sexual assault with four performances of "Good Kids."
"Good Kids" takes place after a high school party, when a girl is raped by a gang of football players. It focuses on the repercussions of the event and the rumors that circulate among her peers. The story is told through various witness and participant points of view. The show is rated "R" and includes strong language and sexual themes.
"This play examines an incident of sexual assault through the lens of social media and other students," says Jeanne Stanley, an associate professor of theater at Missouri S&T who directs the play. "This is a hard look at sexual assault and how society deals – or doesn't deal – with it."
Performances will be held at 7:30 p.m. Thursday, Oct. 29; Friday, Oct. 30; and Saturday, Oct. 31. A matinee performance will be held at 2 p.m. Sunday, Nov. 1. All performances will take place in Leach Theatre of Castleman Hall, located at 10th and Main streets in Rolla.
Share This
About this Story
Campus: Missouri S&T
Key words: Health, Rolla Campus, Teaching,
County: Phelps