Mizzou Central at the MO State Fair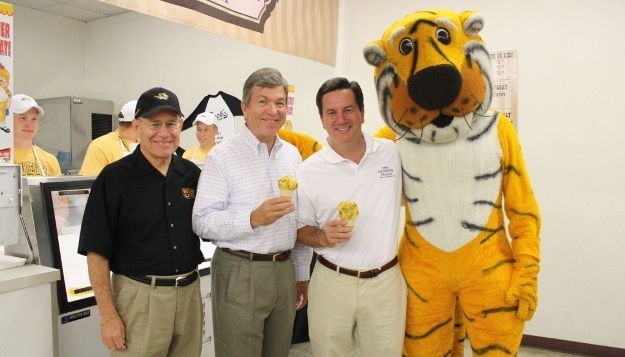 Tom Payne, dean of the MU College of Agriculture, Food and Natural Resources, pictured with U.S. Senator Roy Blunt, UM System Interim President Stephen Owens and Truman the Tiger.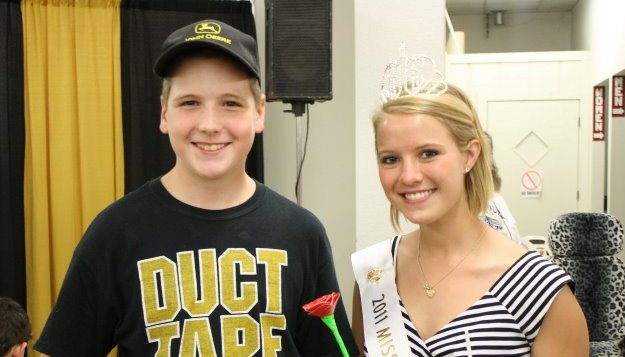 Meredith Jones, of Dawn, Mo., was named the 2011 Missouri State Fair Queen. Jones is a junior agricultural education major at MU and was sponsored by the Mizzou Collegiate Farm Bureau.
As home to the Missouri State Fair, Sedalia, Mo., welcomed hundreds-of-thousands of visitors to its city this week. In addition to livestock shows, entertainment, food and carnival rides, the fair highlighted programs and activities from the University of Missouri-Columbia.
Mizzou Central, a 10,000 square-foot exhibition area located in the Mo-Ag Building, features interactive displays, academic programs and research taking place in programs throughout the university.
The MU College of Agriculture, Food and Natural Resources led the effort to have a central building at the fair to represent the best of MU. This year, fairgoers could learn everything from gardening tips and farm safety to skin cancer prevention and energy efficiency.
Of course, Mizzou Central also features Buck's Ice Cream Parlor – serving Mizzou's famous Tiger Stripe ice cream.
LEARN MORE:
Mizzou Central
Mizzou Central on Facebook
Mizzou Central is located in the Mo-Ag Building inside the Centennial Gate on the Missouri State Fair Grounds. The fair runs Aug. 11-21, 2011.
Share This
About this Story
Campus: UMC
Key words: Agriculture, MU Campus,
County: Pettis