MU Journalism Professor receives C. Brice Ratchford Award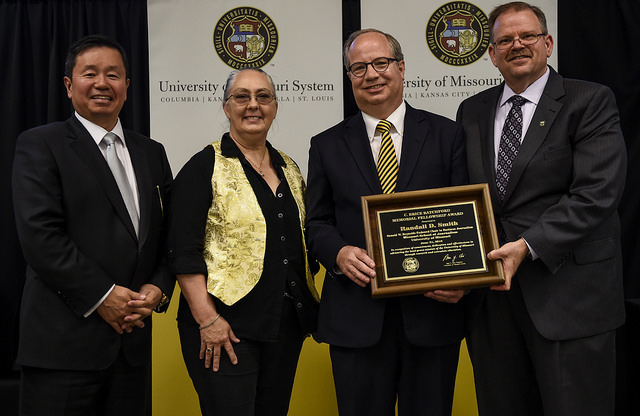 During an Evening of Presidential Honors, Professor Randall Smith was recognized as this year's recipient of the MU Extension C. Brice Ratchford Award.
Smith joined the University of Missouri-Columbia School of Journalism as the first Donald W. Reynolds Chair in Business Journalism in 2009. Smith was nominated by his colleagues in the Missouri School of Journalism for his dedication to excellence, sharing knowledge with all members of society, similar to the creativity, vision and leadership of Dr. Ratchford.
"Having the distinct pleasure of working with Dr. Ratchford, I know he would have been proud to be associated with Randy Smith and would have seen him as a fellow traveler. I share a similar pride in my relationship with Randy," wrote MU Chancellor Emeritus Brady Deaton.
Smith has displayed a strong commitment to his students by overseeing more than 100 graduate projects since 2009, serving as a faculty advisor to the Asian American Journalists' Association and expanding the summer Reynolds internship program. Additionally, he has worked tirelessly to enhance the educational opportunities of MU students, both at home and abroad, showing a deep commitment to cross-cultural engagement. This led to his acceptance of the 2016 President's Award for Cross-Cultural Engagement.
"Given the call for greater international collaborations in the recent years, Professor Smith has, in my belief, an even greater role in educating and mentoring the next generation of international journalists," wrote nominator Mu Li, senior consultant for Commodity Research Group. "I believe there is no better candidate than Professor Smith who can embody the spirit of Dr. Ratchford's land-grant commitments."
In 2015, Smith established the School of Journalism as the home of the Alfred Friendly Press Partners and has presided over the Alfred Friendly Press Fellowships for the past decade. Additionally, he launched the MU School of Journalism's first study abroad experience in South Africa, conceived the Society of American Business Editors and Writers Endowed Chair in Business Journalism at MU, and founded Missouri Business Alert as the first teaching platform for business journalism at MU. Smith has made significant contributions to the students and faculty that will far exceed his tenure.
"Looking back, I realize that I've never met someone as committed to advancing journalism as Professor Smith is," wrote former student Tatiana Darie, reporter with Bloomberg News. "Driven by a passion for storytelling and great curiosity about the world, his teachings have shaped journalists and societies around the globe. Professor Smith's mentorship was crucial in my formation as a business and international journalist."
Prior to joining MU, Smith enjoyed a 30-year career at The Kansas City Star where he began in 1979 working on both the news and business sides. As an editor, Smith worked with award-winning newsroom teams that have earned the profession's top awards and honors, including a Pulitzer Prize in 1982. Other staff recognitions include a Sigma Delta Chi award, an Eppy award, a Philip Meyer Award, twelve Missouri Press Association Gold Cups, a Nancy Dickerson Whitehead Award and the Faculty-Alumni Award from the Mizzou Alumni Association.
Share This
About this Story