Student Entrepreneur of the Year award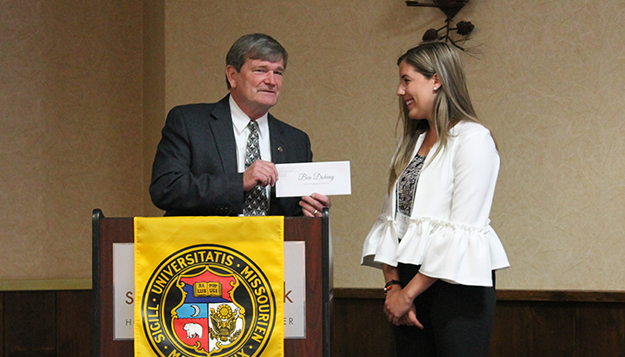 On Friday, University of Missouri System Vice President for Research and Economic Development Mark McIntosh presented the Student Entrepreneur of the Year award to Barbara "Bea" Doheny, a senior in the University of Missouri-Columbia Robert S. Trulaske, Sr., College of Business.
The award includes a $2,500 prize and honors students who have demonstrated innovativeness, originality and entrepreneurial spirit in the development of processes, products or technologies of commercial potential.
Doheny launched AstronoBEAds on Earth Day 2016. AstronoBEAds is an online boutique with astronomy-themed jewelry that currently sells products to both men and women. The venture is based on her interest in science, astronomy and entrepreneurship. Within 20 months of operation, Doheny has sold more than 5,000 products to customers in 31 different countries.
"Bea is active in the regional entrepreneurship scene, and AstronoBEAds has been featured on several local, regional and statewide media outlets," said Gregory L. Bier, director of the MU Entrepreneurship Alliance. "She is driven, well-spoken and a pleasure to work with. She will graduate with an exceptionally well-balanced portfolio of professional experience in having already scaled a profitable company. Only time will tell how far she can go with her entrepreneurial passion and spirit."
As Doheny's business grew, she formed a team and worked with Heath Immel, senior associate director of Missouri Student Unions, to access a collaborative space for her venture. The space provided room for increased production of her various pieces. She systematically trained employees and maintained quality control so every product was created with care and the same attention to detail.
"As you listen to Bea's story, you realize her energizing entrepreneurial spirit is contagious," said Ajay Vinzé, dean and professor of the Trulaske College of Business at MU. "She was named as one of the nation's '22 under 22 Most Inspiring College Women,' presented at the Kansas City Pipeline Gala, and was selected to present at the Collegiate Entrepreneurs Organization National Conference in Tampa, Florida. She is a genuine storyteller and seamlessly markets her brand simultaneously. She is very deserving of this award."
Doheny is studying business marketing and is also a member of the UM System Entrepreneurial Scholars and Interns Program (ESIP). As part of the program, students complete entrepreneurial course work and then receive grant funding to support hands-on entrepreneurial experiences. Doheny has been able to focus on her startup company with the funding from ESIP.
The UM System President's Awards are presented annually to faculty members and students across the four UM System campuses who have made exceptional contributions in advancing the mission of the university. Doheny will be formally recognized by President Choi during an awards celebration in June.
Share This
About this Story