New UMSL rec center strengthens campus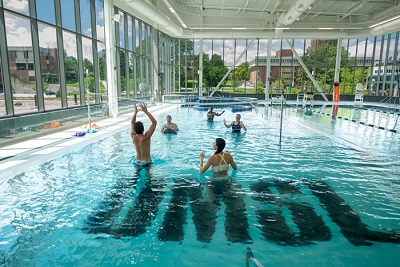 Along with a 155,000-gallon pool, the natatorium sports a zipline, bouldering wall, vortex and more. All images courtesy of UMSL Daily.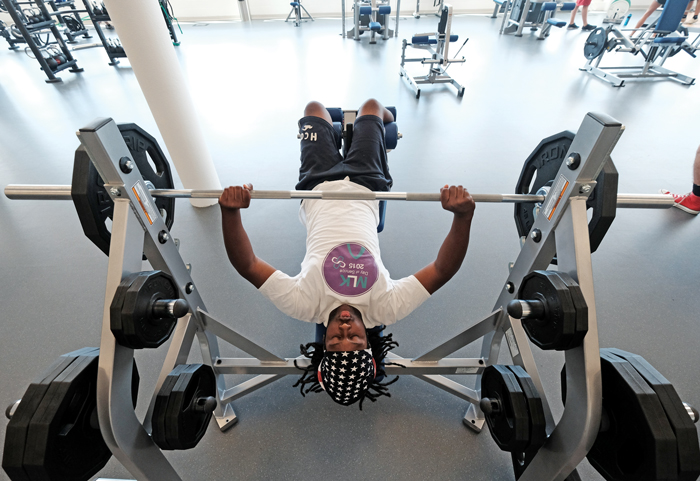 From its long open hours to friendly staff to aesthetics, the UMSL Recreation and Wellness Center is "an amazing place to exercise, de-stress and have a good time," says pre-med student Rodney Whitney, who is majoring in biology and Spanish.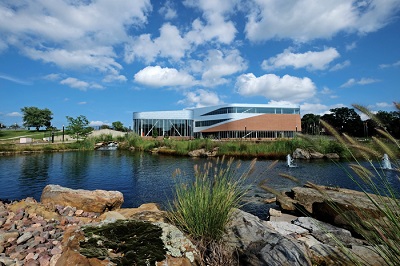 The rec center overlooks the beautiful UMSL campus.
For a few moments, Jericah Selby doesn't know what to say.
The University of Missouri–St. Louis alumna just walked through the main entrance of the UMSL Recreation and Wellness Center for the first time – a place that didn't yet exist when she was a student several years ago.
"It turned out just fantastic," bursts Selby eventually. "It's so welcoming and open, and there's just a lot of space to do what you want to do and feel comfortable. And it's so cool seeing how many people are here."
She turns to Assistant Dean of Students Miriam Roccia, who is along for the late-afternoon tour of the new facility: "Good job," Selby says with a smile.
Roccia is quick to point to UMSL's student body in recent years – including Selby, who was Student Government Association president in 2012 when students voted to fund the project – as the primary force behind the much-anticipated rec center's fall 2015 debut.
"They cared about the well-being of future students, and they cared about the growth of the university," Roccia says. Dedicated student leaders even before Selby had a hand in it, including Dann Rosner, who in 2010 initiated a campus survey to gauge interest in such a facility.
"In seeking out student feedback on how to improve campus, we found that a large number of students were interested in an updated rec center," recalls Rosner, now an employee at Western Kentucky University in Bowling Green. "We also looked at it from an enrollment and recruitment standpoint."
Ask current students for their impressions, and the consensus is that there's a lot to love about the new $36 million rec center. From the state-of-the-art fitness equipment, to the rock-climbing wall, to the 155,000-gallon pool and more, it's garnering rave reviews.
Share This
About this Story
Campus: UMSL
Key words: Health, St. Louis Campus,
County: St._louis