Optometry Students Push Results in Patient Care Center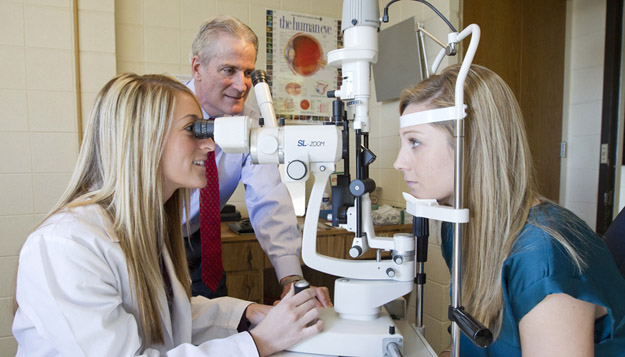 Ed Bennett, professor of optometry, observes Leah Wiedemann, a fourth-year optometry student, who practices an eye exam on Sarah Kelley, a fourth-year optometry student.
When the first College of Optometry students matriculated at the University of Missouri–St. Louis in 1980, Marillac Hall housed their classes and teaching laboratories. It was to be a short-term home for the college. Thirty-four years later, Marillac is still where the entire college resides, but that will soon change thanks in large part to the current optometry students.
The Curators of the University of Missouri System recently approved phase one of a proposed three-phase project that will result in a new South Campus building co-inhabited by the optometry and nursing colleges. The approval included the board signing off on a supplemental student fee that will contribute to funding phase one, the UMSL Patient Care Center.
Last October, 99 percent of eligible optometry students voted with 79 percent in favor of a $450 fee each semester that would increase to $900 per semester once construction begins. Fourth-year students were not allowed to vote because they would have graduated prior to the first semester when the fee is assessed.
Larry Davis, dean of the College of Optometry, said he was inspired by the commitment of the students to the proposal.
"They recognized the lack of facilities designed with health-care and health profession education in mind and were willing to share the costs necessary to improve the situation for generations to come," Davis said. "They deserve a lot of credit for their unselfish and mature response to our longstanding challenges."
The new facility will ensure that the college remains competitive for the best students who choose to pursue a career in optometry, Davis said.
Share This
About this Story
Campus: UMSL
Key words: Health, Innovation, St. Louis Campus, UM System,
County: St._louis