Peruvian primate fieldwork leads biology student to found nonprofit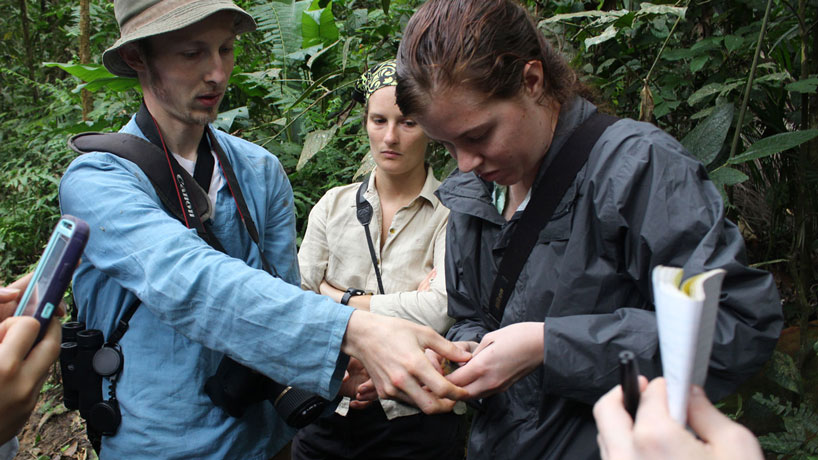 Biology doctoral student Gideon Erkenswick (left) teaches research assistants about Amazon wildlife, specifically primates in Peru, through the nonprofit he co-founded and now directs, Field Projects International.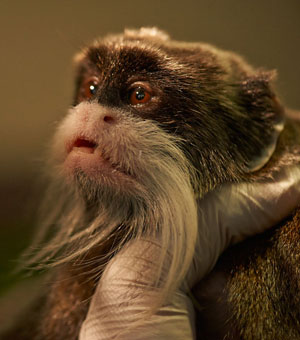 The Emperor Tamarin. Photos courtesy of FPI.
Gideon Erkenswick lived in the Amazon for a year. He did so to help his wife, Mrinalini Watsa, habituate a population of primates to a large-scale capture and release program for field research in Peru. What started out as graduate work grew into Field Projects International, an organization that gets students engaged in science outside the lab.
FPI provides university students worldwide the opportunity to gain field experience through nontraditional learning, research and protection of threatened habitats. For Erkenswick, it's work all done in addition to his doctoral research in biology at the University of Missouri–St. Louis.
"I study parasite-host relationships," said Erkenswick whose area of emphasis is in ecology, evolution and systematics. His involvement in his wife's primate field research inspired his pursuit of a doctorate.
"So I put the two together [parasite-host relationships and primates]," he said. "It is a golden opportunity. I have this incredible population with access to data that is not typical, and we really only have glimpses of what South American primates carry. There aren't a lot of comprehensive studies on them and certainly not of the detail at which I want to study the population – year after year, at the level of the individual. I can look at one individual for four years and see all the things he's encountered, all the things the population's gotten rid of and potentially figure out why."
The two primate species his research focuses on are the Saddleback Tamarin and the Emperor Tamarin, although additional samples provide complimentary data on the other nine primate species at the field site. The parasites he studies are blood parasites and gastrointestinal parasites.
Erkenswick signs up undergraduates and recent graduates to help with research every summer.
"When we tell you you're going to come and learn how to track animals, you really are, because we have animals running around the Amazon with radio collars on," he said. "It's not fake. You're going to do it. We also teach you to climb emergent trees and how to setup a grid of motion-sensing camera trap equipment on trails."
Share This
About this Story
Campus: UMSL
Key words: Agriculture, Science, St. Louis Campus, Teaching,
County: St._louis