President's Award for Sustained Career Excellence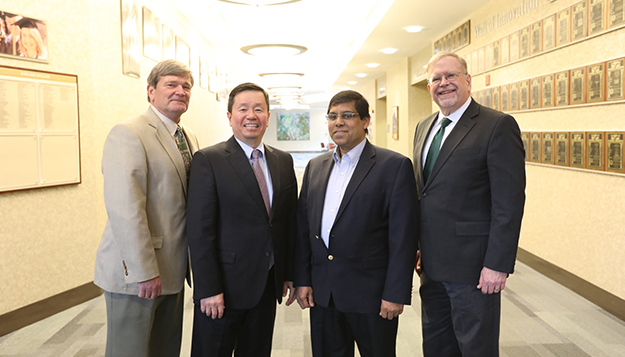 University of Missouri System President Mun Choi today awarded the UM System President's Award for Sustained Career Excellence to Sajal Das, professor and Daniel St. Clair Endowed Chair of computer science at Missouri University of Science and Technology and co-founder of Smart Health beacons, LLC.
Choi—accompanied by Missouri S&T Interim Chancellor Christopher Maples—surprised Das with a $5,000 prize and the award, which recognizes faculty who show a demonstrated and sustained record of distinguished scholarship, research or creativity for a period of 15 or more years.
For more than 30 years, Das has sustained high quality interdisciplinary research in computer science. His research spans mobile and pervasive computing, wireless sensor networks, cyber-physical systems, smart environments (e.g., smart city, smart grid, smart healthcare), cloud computing, cyber security, biological and social networks. He has published extensively, authoring more than 300 peer-reviewed journal articles, more than 450 peer-reviewed papers in conference proceedings, 52 book chapters, and 4 co-authored books. He holds five U.S. patents. Das and his team were pioneers in conducting National Science Foundation-funded research in smart environments, and the team's studies have received more than 1,000 citations for this work alone.
According to DBLP, Das is among the top 65 most prolific authors in computer science worldwide. Guide2Research recently ranked Das among the nation's top 200 researchers in computer science and electronics. According to Google Scholar, his h-index is 80 with more than 26,500 citations.
Das has received numerous awards for teaching, mentoring, research, and professional services. He is an elected Fellow of the IEEE (class of 2015) for fundamental contributions to parallel, distributed and mobile computing. His accolades include 10 Best Paper Awards in prestigious conferences, and IEEE Computer Society's Technical Achievement Award (2009) for pioneering contributions to wireless sensor networks. At Missouri S&T, he received the Chancellor's Innovation Challenge Award (2016) and Outstanding Advisor of the Year Award (2016). Das is a recipient of the IEEE Engineer of the Year Award (2007), IEEE Region 5 Outstanding Educator Award (2008), and IEEE St. Louis Section's Outstanding Researcher Award (2017).
At his previous institution (UT Arlington), he received the Graduate Dean's Award for Excellence in Mentoring Doctoral Students (2011), Lockheed Martin Teaching Excellence Award (2009), Academy of Distinguished Scholars Award (2006), University Award for Distinguished Record of Research (2005), and College of Engineering Outstanding Research Award (2003). Das supervised 9 postdoctoral research fellows, 41 Ph.D. students (including 11 women), 31 MS theses (8 women), 9 BS Honors thesis (3 women), and 26 NSF REU students (one-third women). Eighteen of his mentees are pursuing academic career. Currently he supervising 2 postdocs, 6 Ph.D., 2 M.S. thesis, 3 REU students.
"Dr. Das is singularly responsible for changing how the Missouri S&T campus is meeting the challenge of translating select fundamental research from the laboratory to commercialization of that technology," said Bonnie Bachman, professor and faculty fellow of economics at Missouri S&T. "Because of his vision, our campus is leading the way in creating cutting-edge research programs in computer science, is creating an innovative and entrepreneurial culture, and is laying the foundation for economic impact by taking research to commercialization. Dr. Das deserves to be recognized because he is a leader and inspiration to faculty and students alike. He takes seriously the challenge of translating research to ventures that have both social and economic impact."
From 2013 to 2017, Das served as the chair of the Department of Computer Science. During that time, the department doubled its grant expenditures as well as the number of computer science doctoral degrees it conferred. He helped to establish a culture of innovation and entrepreneurship by recruiting Missouri S&T's first entrepreneur in residence. A strong promoter of diversity education, Das took strategic measures to increase women and minority student enrollment in the department, which has increased from 7 to 14.2 percent since 2013.
"Dr. Das is internationally known for his fundamental research contributions," said Diane Cook, the Huie-Rogers Chair and professor of electrical engineering and computer science at Washington State University. "Sajal's work is interdisciplinary and takes a more fundamental approach to tackling major challenges in cutting-edge problems in mobile, wireless and sensor networks. He is a true scientist, a passionate educator and mentor."
The UM System President's Awards are presented annually to faculty members across the four campuses of the UM System who have made exceptional contributions in advancing the mission of the university. Das will be formally recognized by Choi during an awards celebration to be held in June.
Share This
About this Story
Campus: Missouri S&T
Key words:
County: Phelps