Putnam County 4-H Building Receives Monsanto Award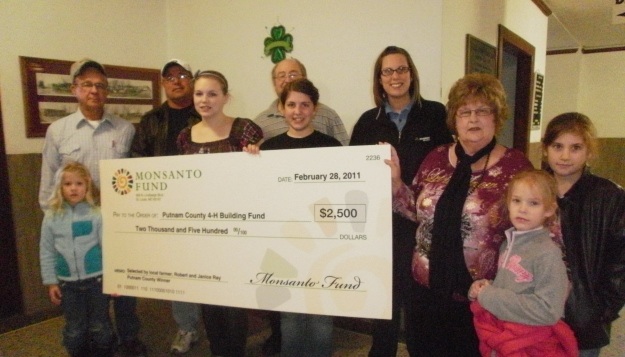 Due to the generosity of Robert and Janice Ray of Unionville and the effort of Classic Kids 4-H Club Leader Kelly Valentine, the Putnam County 4-H Building was the recipient of the Monsanto "America's Farmers Grow Communities Grant Award". The $2,500 award will be used to continue the re-modeling effort now going on at the building which is located at the City Park in Unionville. The re-modeling includes updating kitchen and bathrooms and adding insulation and central heating air conditioning.
The 4-H Building is utilized by not only the county 4-H program but is truly a community building. Representatives from each of the six 4-H clubs in the county make up the building committee which is the administering body of the building. These same 6 clubs are responsible for setting up and tearing down as well as checking the building all throughout the Putnam County Fair, one of the larger fairs in North Missouri. County-wide 4-H events such as Achievement Day, Day Camps and the Fair utilize the building as do wedding receptions, family reunions, educational programs and many other events throughout the year.
The Ray's have had family involved in 4-H in the past and continue to today also. Their hope is that updating this community facility is one way to allow young people to live and work here as well as to remain in our community, partly due to the skills they obtain through the 4-H program.
Putnam County 4-H wishes to thank Monsanto, Robert and Janice Ray and Kelly Valentine for their help with the re-modeling of the Putnam County 4-H Building .




Share This
About this Story
Campus: Extension
Key words: Agriculture, UM System,
County: Putnam