Key Link in Understanding Pests in Agriculture Discovered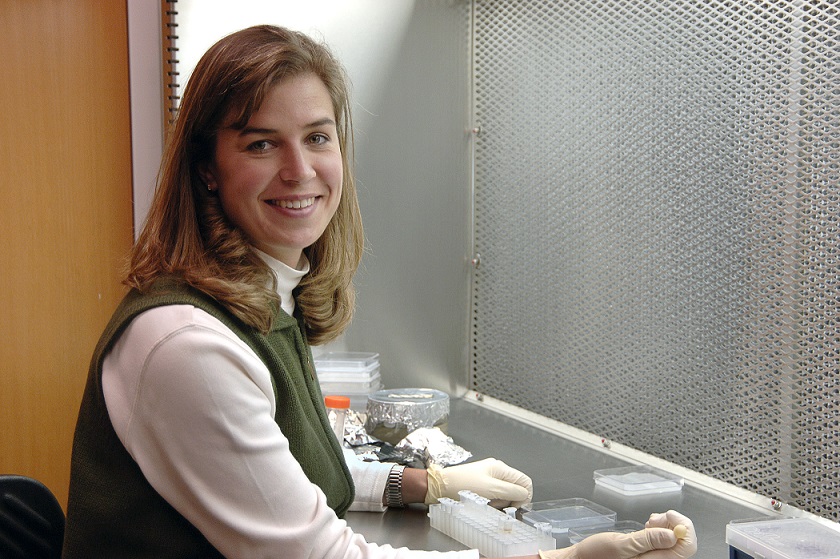 MU professor Melissa Mitchum found genetic evidence that is the link to how nematodes attack soybean crops. Photo courtesy of MU News Bureau.
Invisible to the naked eye, plant-parasitic nematodes are a huge threat to agriculture, causing billions in crop losses every year. Plant scientists at the University of Missouri and the University of Bonn in Germany have found the first genetic evidence linking one method these animals use to attack plants; they proved that these tiny worms use a specialized hormone to help them feed from the plant. This research could allow plant scientists to develop crop plants with enhanced resistance to these devastating agricultural pests.
"Cell cycle regulation is a key aspect of plant development and one of the first events altered during the formation of the feeding sites nematodes use to acquire nutrients from host plants," said Melissa Goellner Mitchum, a researcher in the Bond Life Sciences Center and an associate professor in the Division of Plant Sciences at MU. "These discoveries led scientists to suspect that cytokinin, a hormone that promotes cell division in plants, might play a key role in feeding site formation for nematode parasites."
Carola De La Torre, a doctoral student in the Bond Life Sciences Center, and Demosthenis Chronis, a postdoctoral fellow at MU, worked with Mitchum to determine if nematode infection alters the cytokinin signaling pathways plants use to regulate growth and development and how the process changes due to nematode infection.
Share This
About this Story
Campus: UMC
Key words: Agriculture, Innovation, MU Campus, Science, Teaching,
County: Boone