Top Teacher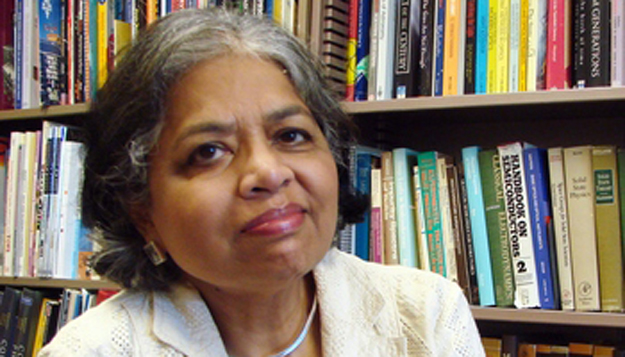 University of Missouri Physics Professor Receives $250,000 Robert Foster Cherry Award for Great Teaching
Meera Chandrasekhar, Curators' Teaching Professor of Physics and Astronomy at the University of Missouri, has been named the recipient of the Baylor University Robert Foster Cherry Award for Great Teaching. The $250,000 Cherry Award is the only national teaching award presented by a college or university to an individual for exceptional teaching.
"Baylor University is very pleased to honor Dr. Chandrasekhar with Baylor's 2014 Robert Foster Cherry Award for Great Teaching," said Elizabeth Davis, executive vice president and provost at Baylor. "Dr. Chandrasekhar is an internationally known teacher/scholar who combines an impressive academic record with a stellar reputation for the extraordinary impact she has had on undergraduate and graduate students."
The Cherry Award program at Baylor is designed to honor great teachers, stimulate discussion about the value of teaching, and encourage departments and institutions to value their own great teachers. Along with distinguished scholarship, individuals nominated for the Cherry Award have proven records as extraordinary teachers with positive, inspiring and long-lasting effects on students.
As the 2014 Cherry Award recipient, Chandrasekhar will receive the $250,000 award and an additional $25,000 for the Department of Physics and Astronomy at MU. In addition, as a finalist, Chandrasekhar received $15,000, and the Department of Physics and Astronomy received $10,000. She is expected to teach in residence at Baylor during the spring 2015 semester.
"I am deeply honored to learn that I will receive the 2014 Robert Foster Cherry Award, and I am humbled to join the illustrious group of teacher scholars who received the award before me," Chandrasekhar said. "The appreciation of excellence in teaching and associated learning has been growing over the past couple of decades. I am excited about my upcoming semester at Baylor and look forward to collaborating with the faculty and students at the university in the teaching and learning enterprise."
Share This
About this Story
Campus: UMC
Key words: Innovation, MU Campus, Teaching, UM System,
County: Boone