UM System leadership delivers keynote address at diversity conference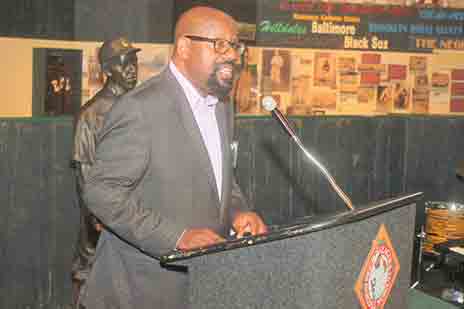 University of Missouri System leaders were the featured keynote speakers at the National Association of Educational Procurement (NAEP) bi-annual Supplier Diversity Institute (SDI) in Kansas City on August 1-2. Representatives from more than 80 universities registered for the conference, including from institutions such as Harvard, University of Washington, Auburn and Washington University, participating in a number of workshops focused on providing and sharing the best practices of supplier diversity in higher education.
Interim President Mike Middleton and Vice President for Finance and Chief Financial Officer Brian Burnett delivered a combined hour-long presentation covering the reasons diversity, equity and inclusion are important for higher education institutions to embrace and endorse, and how supplier diversity, as a business practice, should be a part of that equation. Mr. Burnett also provided some insight on UM's supplier diversity history, and the work being done now for future growth in this area. UMKC Chancellor Leo Morton, and former Curator and current Chairman of World Wide Technologies David Steward, joined them during the audience question and answer session.
Supplier Diversity is a business practice that has evolved over the last 40 years. Over that time, diverse supplier (Black, Asian, Hispanic, Native American, Veterans, Service Disabled Veterans and Women) utilization has become a priority for both state and federal governments and corporate procurement executives. The concept and its importance is just starting to gain wider attention within higher ed. The term economic inclusion became popular in the early 2000s as a way of providing a more focused business term to the practice.
Middleton provided the audience some background on the diversity, equity and inclusion work that is taking place within UM System and its campuses, including the link that supplier diversity should have within higher education with the broader inclusion efforts. One of the key points he raised was how supplier diversity should be a vital part of efforts by all higher education institutions diversity, equity and inclusion programs.
"The investments that are made with the purchases we make from these firms helps to build external communities," Middleton said. "This is very important. Too often when educational institutions talk about diversity, equity and inclusion, the tactics and measures are almost solely inward-focus within the university community. I believe we must also have strong external focus in the communities that we serve. This includes a focus on economic inclusion," said the president.
Burnett's talk focused on the UM System's history in the area of supplier diversity (once known as Minority Business Development). Over the past 10 years, UM System has spent about $500 million dollars with diverse suppliers, about 7% of total expenditures.
"While we have done ok in this area," Burnett said, "about 2 years ago, we started to put more of a strategic focus on supplier diversity, including setting goals, plans and initial accountability measures for success. It is a performance objective of mine and of a number of my key direct reports now."
Much of UM System's success over the years has come on its Design and Construction projects. There's also been some solid work within supply chain in areas like janitorial, airline charters, and commodity areas, like computer hardware.
To close the SDI conference, there was a diverse supplier trade fair with more than 25 vendors participating. The fair was opened to corporate buyers in Kansas City, as well as conference participants. The evening ended with a reception held at the Negro Leagues Baseball Museum in the historic 18th & Vine Jazz District in Kansas City.
"Colleges and universities, like the corporate business sector, have a role in helping to build and develop communities," said Daryl Hodnett, director of UM System Supplier Diversity and co-chair of the NAEP SDI Host Committee. "All the data I've seen over the years suggests many of these diverse firms create jobs and help in many cases underserved communities to prosper. It is a long-term play for any institution that does this work. I would see this as a part of a diversity, equity and inclusion 'toolbox' that can demonstrate to prospective students and parents that UM's campuses are truly inclusive. That's the win for the institution," he said.
The August 2016 issue of University Business highlights supplier diversity within higher education. Click this link to review the article.
https://www.universitybusiness.com/article/higher-ed-drives-economic-diversity
For more information about UM System's Supplier Diversity Program, please click this link:
https://www.umsystem.edu/ums/fa/management/sdsbd
Share This
About this Story