UM System schools to see minimal tuition increases for 2015-2016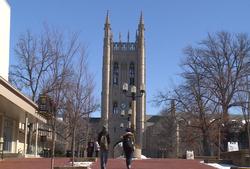 MU students walk Lowry Mall. Photo courtesy of KOMU 8 News.
UM System schools will only see a slight bump in tuition rates for the 2015-2016 academic year.
The Board of Curators approved a 0.8% tuition increase for undergraduate residents at MU, UMKC and Missouri S&T.
The only exception is at UMSL, where in-state resident undergrads will have to pay an additional 6.6% in tuition as the result of a Recreational and Wellness Center Fee.
UM System Spokesperson John Fougere said the tuition increases in recent years for these schools have been well below that of schools from surrounding states.
"The average increase for University of Missouri System campuses in terms of tuition has been about two percent," Fougere said. "Other Midwestern states have been six percent. So the University of Missouri System is really a national leader."
Share This
About this Story
Campus: UMC
Key words: Board of Curators, Competitiveness, UM System,