UMKC Associate Professor Honored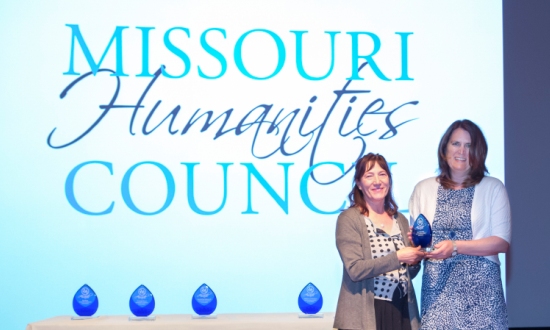 Dr. Kathleen Nigro, Vice Chair of the Board of the MHC, presents the Distinguished Literary Achievement Award to Diane Mutti-Burke. Photo courtesy of UMKC Daily.
* "We all need to find out who we are and how we fit into the world."
These words, gracing the cover of the Missouri Humanities Council awards program, neatly summed up the erudite search for self-discovery by this year's MHC honorees. Among them was Diane Mutti Burke, University of Missouri-Kansas City associate professor of History. For her writings about the history of slavery and the Civil War in Missouri, Mutti Burke was recognized with the 2015 Award for Distinguished Literary Achievement.

Honorees and their guests gathered at the National World War I Museum and Memorial, where featured speaker Tom Bloch, former CEO of H & R Block, told the group what it was like to start a charter school designed to help children get the most from their education. The first lesson he learned was a tough one – school is too late. Helping them learn to learn by giving kids the basics must come earlier.
Next came the awards, celebrating Missouri residents who have made exceptional contributions to our understanding of the history and culture of the state and its people. Awards are given for Exemplary Community Achievement (Thad Beeler, H. Dwight Weaver, John McClure Robinson III), Excellence in Education (Thomas M. Bloch), and Mutti Burke's category, Distinguished Literary Achievement, shared with William Least Heat-Moon.
Share This
About this Story
Campus: UMKC
Key words: KC Campus, Teaching,
County: Jackson