UMKC Scholarship Students Express Gratitude to Donors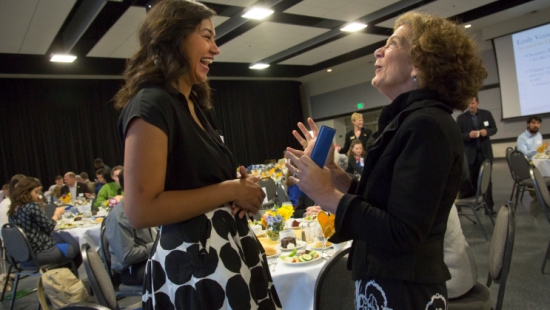 Scholarship recipient Sydney Harvey shares a laugh with donor and speaker Barbara Unell. Photo by Janet Rogers, Division of Strategic Marketing and Communications, courtesy of UMKC Today.
Student scholarships help pay the bills, no question. For many students, however, the value transcends dollars and cents.
Ida Ayalew is one such student. While her parents have not been involved in her college education, she said through tears, "I have not been alone." Scholarship programs at the University of Missouri-Kansas City have provided her with emotional, as well as financial, support.
Ayalew credited Liz Barton, director of Arts & Sciences Scholarships at UMKC, with being a mentor and guide throughout her college career.
The senior Philosophy major was one of two featured speakers at a luncheon celebrating scholarship students from the College of Arts and Sciences, and the generous donors who fund those scholarships. She said faculty and staff from the College, the Black Studies program and the Office of Multicultural Student Affairs have provided her with the emotional resources to persevere through her personal family issues, while the scholarship donors who have financed her education made it possible for her to stay in school and thrive.
"You have helped motivate me to push past those obstacles in order to focus on my passion for Philosophy," Ayalew said. "My time at UMKC has allowed me to grow as a scholar and to find my voice as an individual. If it was not for your contributions, I would not be the confident leader and scholar I am today."
Share This
About this Story
Campus: UMKC
Key words: KC Campus, Teaching,
County: Jackson