UMKC, TMC discoveries published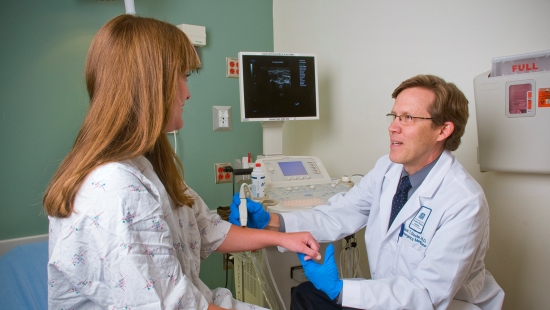 Mark Steele, right, co-authored a study published in March 2016 in the New England Journal of Medicine. Photo courtesy of UMKC Today.
Mark Steele, University of Missouri-Kansas City School of Medicine professor of emergency medicine and chief medical officer and chief operating officer at Truman Medical Centers, is a co-author of a report released this month in the New England Journal of Medicine that explores the treatment of the most commonly-caused skin and soft tissue infection throughout much of the world.
The subject of the study was skin abscesses, many of which are caused by Methicillin-resistant Staphylococcus aureus, commonly known as MRSA. The number of incidents of the disease in hospital emergency departments nearly tripled between 1993 and 2005.
Surgical drainage of the abscess has long been regarded as the primary treatment. But the study, conducted at a network of emergency departments at hospitals throughout the United States, reveals that patients with abscesses caused by MRSA who receive the antibiotic trimethoprim–sulfamethoxazole in addition to the drainage procedure have higher cure rates with fewer recurring infections and subsequent surgical drainage procedures.
Share This
About this Story
Campus: UMKC
Key words: Health, KC Campus, Teaching,
County: Jackson