UMSL School of Social Work secures major grant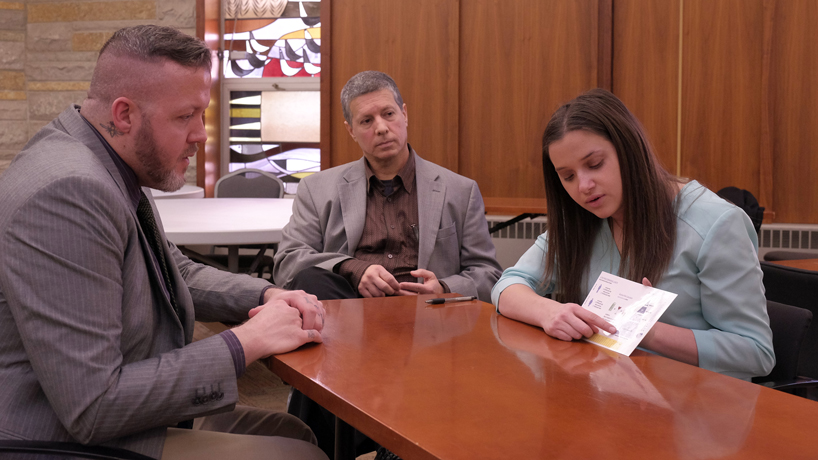 Greg Faupel (far left), Joe Pickard and Gina Garbo conduct a role-playing exercise to practice effective Screening, Brief Intervention and Referral to Treatment techniques. Photo courtesy of UMSL Daily and August Jennewein.
Graduate student Greg Faupel understands the importance of using tact and natural conversation when broaching difficult topics with people struggling through addiction.
"When working with clients, you have to put yourself into their shoes," said Faupel, who is pursuing a master's degree in the University of Missouri–St. Louis School of Social Work. "Some clients need to seek immediate attention for their substance abuse issue, yet they may not be ready for commitment or fearful of judgment. Using motivational interviewing techniques helps the client find self-determination to move forward."
Faupel believes a focus on empathy will strengthen his skills as a case manager and allow him to better assist clients who are on the cusp of addiction navigate drinking and drug use.
The School of Social Work's newly implemented Screening, Brief Intervention and Referral to Treatment training program made possible through a federal grant will aid Faupel in meeting his goals.
SBIRT is an approach to substance and alcohol abuse intervention that can be utilized across a variety of social work specializations and settings.
Share This
About this Story
Campus: UMSL
Key words: Health, St. Louis Campus, Teaching,
County: St._louis