Vicki Sauter wins UM President's Award for University Citizenship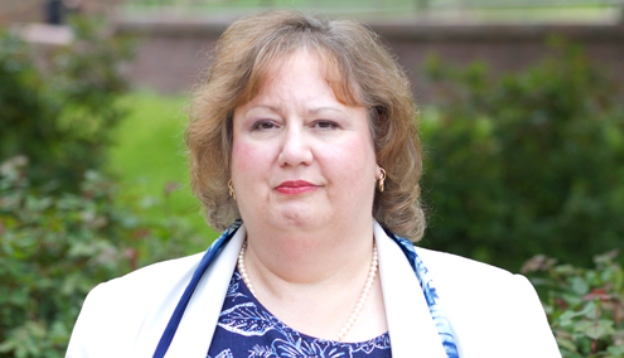 Vicki Sauter is a professor of information systems at UMSL. (Photo by August Jennewein)
When Vicki Sauter was 18 years old, her father fell victim to an attempted armed robbery on the street outside her family's Chicago-area home. He fought back but during the struggle was shot once in the head and later died from the injury. Neighbors witnessed the attack, but did nothing. At the funeral, one neighbor told Sauter she was sorry, and if she'd known it was Sauter's father, she would've helped.
"That conversation set the stage for much of my life," said Sauter, professor of information systems at the University of Missouri–St. Louis. "That's why I get involved. I never want to give an apology to anyone for not helping out."
In late April, Sauter, of Creve Coeur, Mo., learned she's being honored by the four-campus University of Missouri System with the UM President's Award for University Citizenship (Service). The award recognizes Sauter's more than 30 years of leadership, mentoring and service to students, UMSL's College of Business Administration and the field of information systems.
"Vicki has been a leader in community outreach in many directions," Keith Womer, dean of the business college, wrote in a nomination letter for the award. "She inspires others to be involved, and the result is a web of outreach activities that captures students, business leaders and academics and has them working together for the betterment of all."
Sauter joined UMSL's College of Business Administration faculty in 1980 and became the first woman in the college to earn tenure. She has been a member of the Institute for Operations Research and the Management Sciences for more than 35 years, and she has held several elected positions and received numerous awards for her service to the institute.
Share This
About this Story
Campus: UMSL
Key words: President, St. Louis Campus, UM System,
County: St._louis