Wiebold receives President's Award for Service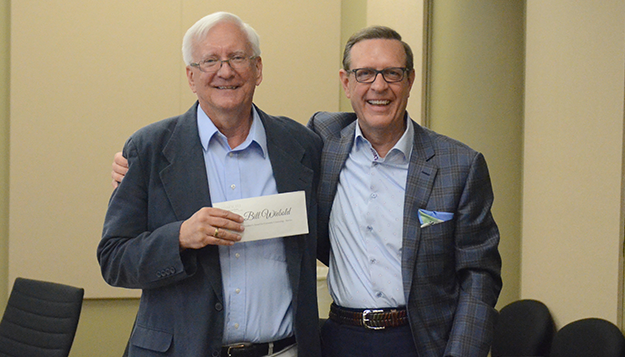 University of Missouri System President Mun Choi today awarded William Wiebold, professor of plant sciences at the University of Missouri-Columbia with the President's Award for Service.
Choi—accompanied by UM System Senior Associate Vice President for Academic Affairs Steve Graham—surprised Wiebold with the award during a regularly scheduled Intercampus Faculty Council TelePresence meeting.
The award, which includes a $5,000 prize and recognizes faculty who show exemplary and extensive service to the university that is above and beyond the normal service expectation, such as mentoring other faculty in the areas of teaching, research, scholarship, outreach and economic development.
Wiebold has been on the faculty at Mizzou since 1990 and currently serves as the Missouri state soybean extension specialist. His applied research program involves cropping systems that enhance productivity, increase stability and protect the environment. Wiebold also is the director of the Missouri Soybean Center.
"Bill has been a great colleague and mentor since I joined the Division of Plant Sciences in 2007," said Felix Fritschi, professor of plant sciences at MU. "I have had the opportunity to work with Bill in teaching, research and service. I have not only witnessed his dedication and commitment to our university, but, unquestionably, I also am a direct beneficiary of his mentorship."
Wiebold has been elected to and served three terms on the Faculty Council and has served in several leadership roles, including his election as chair for a three-year term in 2016. He also has served on committees focused on long-term planning, resources and policy positions at MU.
Wiebold recently agreed to serve as director of the newly formed Missouri Soybean Center, which will play a vital role in integrating Missouri's soybean research, teaching and extension programs locally, within the state and nationally.
"I do not know another faculty colleague, at MU or elsewhere, who has attained such a comprehensive and distinguished record of service activities," said Robert Sharp, professor of plant sciences at MU.
The UM System President's Awards are presented annually to faculty members across the four campuses of the UM System who have made exceptional contributions in advancing the mission of the university. Wiebold will be formally recognized by UM System President Mun Choi during an awards celebration to be held in June.
Share This
About this Story