The Caught in the Act project is now closed.
 
What is "Caught in the Act"?
Caught in the Act is a program designed to reward faculty and staff members for demonstrating random acts of wellness. These employees exemplify the importance of embracing a culture of health at work. Caught in the Act supports the University of Missouri System Culture of Health, which encourages faculty and staff to make being active, eating well, finding a work-life fit, working healthy, and empowering and appreciating one another a priority.
What is the role of a Wellness Ambassador?
Wellness Ambassadors are able to recognize faculty or staff for exemplifying random acts of wellness. We ask that Wellness Ambassadors encourage random acts of wellness by setting the example, promoting the program, and recognizing faculty and staff who embrace a culture of health.
What's new this year?
Any faculty or staff member can submit a colleague's name for demonstrating a random act of wellness.
The prize options have changed. There will be 5 prize options, one from each of the Culture of Health priority areas. The winner gets to choose one prize.
Were you Caught in the Act?
Join us in celebrating every employee's commitment to bringing wellness to the workplace. Last year was our first year in celebrating Caught in the Act. More than 520 employee were caught committing more than 630 random acts of wellness. Let's try to reach 1,000 this year!
If you didn't get a chance to participate last year, make sure you get "caught" this year!
---
Need inspiration for promoting a Culture of Health in your department? Here are some amazing things University of Missouri System employees have been caught doing: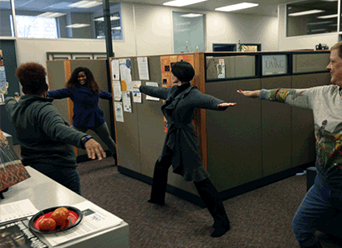 Be active
The UMKC Administrative Center staff regularly participate in stretching exercises and mini yoga sessions led by their co-workers. The sessions serve as a way to be active and stay healthy at work. Everyone is encouraged to participate to the best of their abilities.
See more ways UM employees were caught being active.
---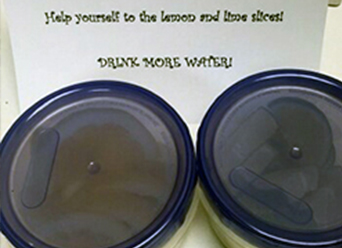 Eat well
At Missouri University of Science and Technology, the HR department has come up with a simple and effective way to encourage employees to drink more water; they've made lemon and lime slices available next to the water dispenser.
See more ways UM employees were caught eating well.
---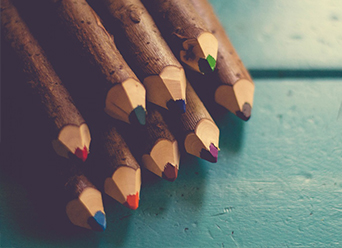 Find a work-life fit
Members of Mizzou Online at the MU Campus organized a coloring event to promote mindfulness and stress relief. The turnout was great and employees enjoyed being able to color and socialize while at work. Healthy snacks were also provided during the event. 
See more ways UM employees were caught finding a work-life fit.
---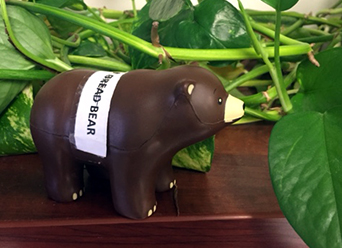 Work healthy
Lester the Wellness Bear is the new mascot for Accounting Services at UMSL. The department got Lester as a free give way and decided to use him to promote wellness and encourage taking short breaks from work. If an employee has Lester, that employee must take him for a walk. After the walk, the employee gets to "pass the bear" to someone else. Lester appreciates all of the exercise, and so do the Accounting Services employees.
See more ways UM employees were caught working healthy.
---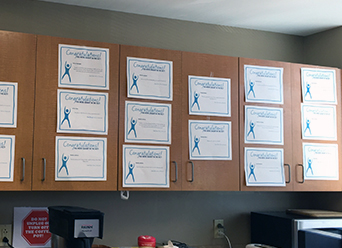 Empower and appreciate
The employees at the Keene Family Medicine Clinic do a great job of being healthy, and it shows from all of the certificates they earned! To continue empowering and appreciating their staff, the department decided to showcase all of the certificates they earned in their breakroom.
See more ways UM employees were caught empowering and appreciating each other.
Reviewed 2023-09-20