Million Step Pedometer Program

Overview
The Million Step Pedometer Program is a simple walking program designed to get faculty, staff, and their families up and moving. Go at your own pace--no time limit applies. You are a success if you take more steps today than you did yesterday.
For each million steps you walk, you can earn great prizes--including a rebate for a Fitbit purchased from University of Missouri Campus Stores through a partnership with Healthy for Life.
Eligibility
Who can participate in the program?
Faculty/staff
(full- or part-time)
Eligible dependents*
of faculty/ staff
Retirees &
their dependents*
Graduate/undergraduate students, whether working for the university of not
Purchase a Fitbit at University of Missouri System Family pricing
Yes
Yes
Yes
Yes
Participate in the Million Step Pedometer Program
Yes
Yes
Yes
No
Earn prizes
Incentive points
Yes
No
No
No
Campus Store gift cards
Yes
Yes
No
No
All other prizes
Yes
Yes
Yes
No

Receive a rebate for a Fitbit device purchased from a university Campus Store upon reaching one million steps.

Only one Fitbit rebate per eligible participant.

Yes
Yes, if enrolled in a university health insurance plan
No
No
* Eligible dependents include a spouse, sponsored adult dependent and any child for whom you are a legal guardian.
Track steps
How do I track my steps?
You may track steps using a pedometer or activity tracker of your choosing. Rebate-eligible Fitbit devices are available for purchase from University of Missouri Campus Stores through a partnership with Healthy for Life.
Using a Fitbit or similar device with an online component, you will need to upload your total steps in order to claim prizes and a rebate through the "I did it!" step submission form. Fitbit calls these "Lifetime Steps."
If using a pedometer without an online component, track your steps by downloading the Healthy for Life Million Steps Pedometer Tracker (MS Excel, 37KB) or use a log of your choosing. Then, upload it through the "I did it!" step submission form.
Which Fitbit devices are eligible for a rebate?
Any Fitbit device purchased at a University of Missouri Campus Store or UMHS pharmacy qualifies for a $45 rebate after walking a million steps. To decide which device is right for you, go to Compare Devices on the Fitbit website.
Where can I purchase a rebate-eligible Fitbit device?
The below University of Missouri Campus Store locations offer in-store or online purchase options to fit your needs. Please select from one of the following convenient locations to purchase your rebate-eligible Fitbit:
In Columbia, Fitbits are also for sale at the University of Missouri (MU) Health System pharmacies.
If you need to purchase a Fitbit device in an extended size not available at the University of Missouri Store or pharmacies, please contact Healthy for Life at 573-884-1312.
Step submission, prizes, and rebate request
I have walked a million steps. Now what?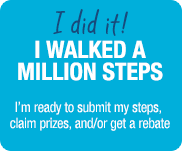 Click the button above to go to the form where you may do all of the following:
Fitbit resources and troubleshooting
If you are having any issues with a Fitbit device, please visit the Fitbit Help page to identify and fix the problem. Also available through this link are Frequently Asked Questions and an owner's manual.
All Fitbit purchases come with a one year manufacturer's warranty. If you are having problems with your Fitbit or have lost your Fitbit please contact Fitbit directly using the link below or by calling 1-877-623-4997 and pressing '0'. The Fitbit team can help with additional troubleshooting or replacing the device as appropriate. Make sure to tell Fitbit that your device is part of a corporate purchase for the University of Missouri System. You will need to provide them with your university email address and the date you purchased the device.
Reviewed March 07, 2017.