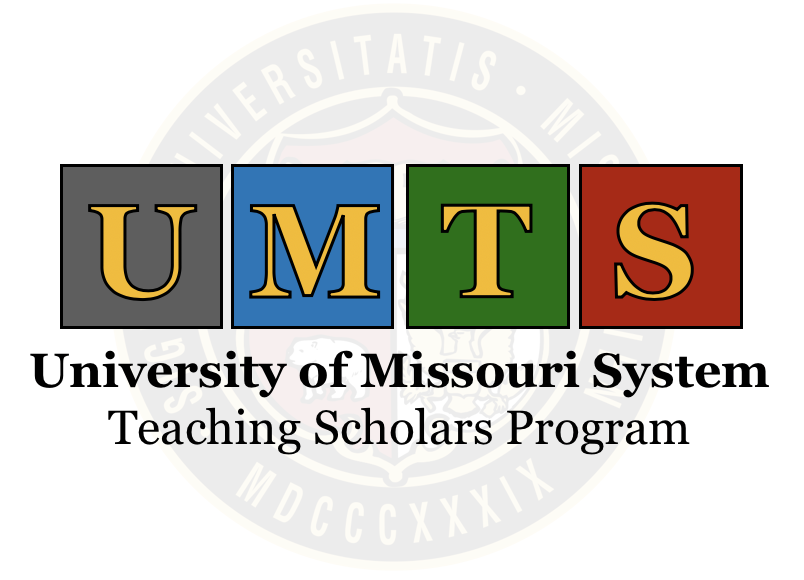 ***Program Changes due to COVID-19: The April 27-28 UMTS conference has been postponed indefinitely. As circumstances allow, a conference for the 2019-2020 cohort will be held concurrent with the fall conference for next year's cohort. Additionally, the application deadline for the 2020-2021 cohort has been extended until May 22, 2020.***
We are now accepting applications for the 2020-2021 cohort! If you are interested in applying, please submit your application along with an endorsement from you department chair (email suffices) no later than May 22, 2020.
The University of Missouri System Teaching Scholars Program (UMTS) is designed to support and recognize the contributions of new-to-UM faculty members to student academic success. Focused on fostering a commitment to excellent teaching, this unique program provides participants with an opportunity to their network across their home institution and across the four UM universities and prepares faculty to engage with their teaching in new, creative ways.
Click here for a list of the 2019-2020 UM Teaching Scholars cohort.
Program Mission
This program is directly linked to the UM System's Compact for Student Success. Specifically, the following components of the Compact are supported by UMTS:
Encourage and support faculty who are committed to excellence teaching as a critical component of student success
Enhance learning experiences
Increase flexible paths to learning and degree completion
Increase retention and graduation rates
Program Goals
UMTS is designed to support new-to-UM faculty members by achieving the following objectives.
Faculty will learn the techniques and strategies that will assist them in becoming effective educators and support the UM System goal of remaining a learner-centered institution

Faculty participants will grow their awareness of the value of adopting a scholarly approach to teaching
Faculty participants will familiarize themselves with applying the principles of good practice in the Scholarship of Teaching and Learning (SoTL)

Faculty will learn strategies for effective communication across diverse groups of faculty, mentees, advisees, and classroom situations
Faculty will develop collegial networks and collaborations with university and system wide peers
Program Structure
UM Teaching Scholars will participate in two, one-day sessions in Columbia, Missouri. These sessions provide unique opportunities for engagement with system wide colleagues and to learn about key techniques and strategies to foster student success through teaching and learning.
In addition to system wide events, scholars will join an institution-based learning community (LC), which will foster yearlong professional development and an opportunity to grow your network at your institution. On-campus activities will include a variety of learning opportunities that address topics designed to support faculty development as teachers and scholars.
Travel, lodging, meals and materials will be provided by UM System in partnership with institutional partners.
Important Dates
2020-2021 Cohort
Recruitment for the 2020-2021 UMTS cohort will begin in February 2020 and run through mid-May. We encourage you to speak with your department chair about the program if you are considering applying. A brief statement of support from your chair will be required as a component of your application.
Fall system-wide session: September 10, 2020
Participant Testimonials
"I have really enjoyed getting to know the other faculty scholars. I doubt I would have ever met any of the faculty from other campuses, and now I have points of contact at UMSL, UMKC and MST who can help me reach out to potential collaborators on those campuses."
– Ron McGarvey, Industrial and Manufacturing Systems Engineering, University of Missouri-Columbia
"The UMFS program has been the most important professional development program I have attended. It allows you to have a deeper understanding of academia and of yourself. What I have learned not only allowed me to have a better grasp of myself as a teacher and researcher but also will allow me to develop into a better and more productive faculty member."
– Eduardo Abreu, Nursing and Health Studies, University of Missouri-Kansas City
"UMFS was a fantastic experience.  It gave me the opportunity to closely consider the concepts of course design, effective teaching, collaboration and connecting with students.   In addition, I am much better prepared for upcoming promotion reviews."
– Jim Craig, Department of Military and Veteran Studies, University of Missouri-St. Louis
"The Faculty Scholars program provided valuable and useful information for furthering UM instructor and student success.  The ability to network with faculty from across the state is very helpful. Being knowledgeable about the resources, functions and opportunities at the multiple campuses is very useful."
– William LeFevers, Nursing and Health Studies, University of Missouri-Kansas City
"The UMFS is currently the best and only way to really get to know a large number of our colleagues at all of the other institutions within the system.  I and several others have formed collaborations and made contacts that will lead to future collaborations.  This benefit of the UMFS program cannot be understated."
– Brian Smith, Engineering Management & Systems Engineering, Missouri University of Science and Technology
"I am very grateful for my experience with the University of Missouri Faculty Scholars program.  Before the last retreat was even over, I was recommending it to a colleague in my division and thanking my Dean and Chair for allowing me to take advantage of this opportunity!  The insight I gained in the areas of promotion, scholarship, instruction, and research will be invaluable as I move forward in my career."
– Angela Brownfield, Pharmacy Practice & Administration, University of Missouri-Kansas City @ MU
Reviewed 2020-12-24