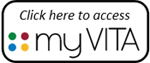 ---
Help Contacts
If you are experiencing issues with logging in, browsers, printing, or some feature of the system is not working properly, contact your campus help desk.

MU – 573-882-5000
UMKC – 816-235-2000
S&T – 573-341-4357
UMSL – 314-516-6034

If you have questions about entering your activities or information, which category to use for a specific activity, etc., contact the myVITA Support Team for assistance.
What's New?
Follow our progress on Twitter @myVITA_UM
Latest Tweets
Recommendation Committee
In order to represent the needs of each campus, a committee was assembled to draft the criteria for the RFP, review the bids, and make a vendor recommendation to the provosts. Membership was comprised of faculty and administrators from all four campuses, across many disciplines, and also included representation from the Registrar's Office, Institutional Research, and Information Technology and Grants.
Committee Membership
*Indicates members that were unable to complete service on the committee.
Reviewed March 04, 2016.