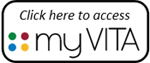 ---
Help Contacts
If you are experiencing issues with logging in, browsers, printing, or some feature of the system is not working properly, contact your campus help desk.

MU – 573-882-5000
UMKC – 816-235-2000
S&T – 573-341-4357
UMSL – 314-516-6034

If you have questions about entering your activities or information, which category to use for a specific activity, etc., contact the myVITA Support Team for assistance.
What's New?
Follow our progress on Twitter @myVITA_UM
Latest Tweets
System Enhancements
The myVITA team has gathered your suggestions to make improvements to the system based on your feedback. See below for information about recent and upcoming changes to myVITA. If you have other suggestions, contact us to let us know what new features you would like to see!
Completed!
| | |
| --- | --- |
| | A new section called Journal Editor, Peer Reviewer, Adjudicator has been added to the Activities form. This section provides a place for faculty to report when scholarly expertise is used in review of others. |
| | The Honors, Awards, and Recognitions section was moved from the Profile form to the Activities form. This change was made so that faculty could report any date range on honors received. |
| | The myVITA Access Settings feature was provided to allow faculty to choose another person as a delegate. Delegates are able to enter information for you. They will have access to your Profile and Activity forms, as well as your personal CVs, Biosketches, and individual reports. |
Coming Soon
| | |
| --- | --- |
| | A new section called Distribution of Responsibilities will be added to the Activities form. This section will be preloaded with your department's distribution for your teaching, research, and service. |
Future Enhancements
| | |
| --- | --- |
| | A new section called Courses Taught for Academic Credit at another Institution will supplement the official UM Courses Taught section in the Activities form. Whether you taught courses at another institution prior to your position at UM, or perhaps you teach at another institution during the summer or another timeframe, this section will allow you to fully report your teaching accomplishments outside of your UM position. |
Reviewed June 03, 2016.