Mira Aubuchon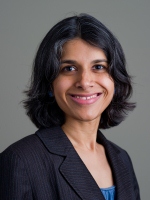 Mira Aubuchon is an assistant professor of obstetrics, gynecology and women's health at the University of Missouri–Columbia. Dr. Aubuchon has been in practice for over seven years and also serves as director for the In-vitro Fertilization (IVF) Program - Missouri Center for Reproductive Medicine and Fertility. Her areas of expertise include:
Tubal ligation reversal
Egg donation
Polycystic ovary syndrome
Hysteroscopy
Laparoscopy
Robotic surgery
Further information can be found at www.fertilitymissouri.com. Dr. Aubuchon is Board-Certified in Ob/Gyn and Reproductive Endocrinology and Infertility. She received a M.D. from Northwestern Feinberg School of Medicine, completed residency at Washington University in St. Louis School of Medicine, and fellowship in Reproductive Endocrinology and Infertility at the Albert Einstein College of Medicine.
She lives in Columbia with her husband and young son. She enjoys reading mystery and thriller novels, swimming, cooking and hopes to someday return to salsa dancing.
Reviewed September 10, 2013.