Alicia Beatty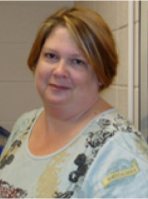 Alicia Beatty is an UMSL graduate, and obtained a Ph.D. in chemistry from Washington University. She was a research faculty member at Kansas State University and at Notre Dame, and then became an assistant professor at Mississippi State from 2003-2008. Beatty returned to UMSL as associate professor in 2008.
Beatty's research interests are in solid state and supramolecular chemistry; she is interested in controlling how molecules interact to create different solid state architectures, and in how the different sizes and shapes of small particles affect their properties. Her non-academic interests include modern and contemporary art and literature.
"I'm part of the UMFS program not for tenure-related information, but for the expansion of my perspective on both the academy and teaching. This is a great opportunity to interact with and learn from my colleagues in different disciplines."
Reviewed September 10, 2013.