Linda Bennett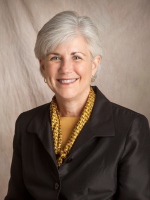 Dr. Linda Bennett is a interim Title IX coordinator in the Provost Office at the University of Missouri. In 2011-12, Bennett served as an American Council on Education (ACE) Fellow with President Tom Ross of the University of North Carolina system. She previously served in the College of Education as the associate dean for Academic Affairs and the director of the Teacher Development Program. As the coordinator of Social Studies Education, she designed an online master's in Learning and Instruction and has been a faculty member in the college since 1990.
Bennett has held fellowships in India, Japan, Bulgaria and Germany. Bennett was selected as the editor for Social Studies and the Young Learner, winning the Association of Educational Publishers Award in 2008 and is an inaugural inductee into the University of Memphis Education Hall of Fame. MU honors include Excellence in Education Award, Excellence in Teaching with Technology Award and Graduate Professional Council Gold Chalk Award. Bennett has given more than 90 presentations in the United States, Canada, Mexico, Australia and Switzerland and published more than 30 international and national articles, five book chapters, and a book. She was selected for the Leadership Development Program in the University of Missouri System, served as the president of the Missouri Council for the Social Studies, and as a board member for the Missouri Association of Colleges for Teacher Education. Bennett received adoctorate in education from the University of Northern Colorado and earned a masters of education from the University of Memphis.
Reviewed September 16, 2014.