Jenny Bossaller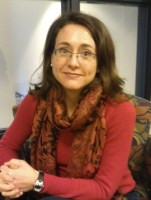 Jenny Bossaller is an assistant professor of Library and Information Science. Her research uses sociological and historical methods and research to uncover how aspects of social, political, economic and technological aspects of society converge to limit or allow the free flow of information to extend to all citizens. She is especially interested in the concept of the public sphere and civil society. She has developed a study abroad program highlighting these ideas in the United Kingdom and Ireland.
Bossaller received the Reference Service Press Award in 2011 and was the co-recipient of the Best Paper Award from the Library Research Round Table of the American Library Association in 2011. She serves on the editorial board of Reference and User Services Quarterly. She has participated in two faculty fellowships prior to UMFS in services learning (at the University of Southern Mississippi) and mindful teaching (University of Missouri). See more here: http://bengal.missouri.edu/bossallerj/jsb/Jenny_Bossaller.html.
Reviewed September 10, 2013.